More than being known just as a month of respite to enjoy the school holidays, June has a special focus with key environment days - World Environment Day (5 June), World Oceans Day (8 June) and World Rainforest Day (22 June) - that celebrates the earth. There has never been a more urgent need to shed light on the state of our earth to encourage active involvement to restore and preserve its natural elements.
While it may seem daunting to take the first step, there are easy green activities we can incorporate into our daily lives that can make a difference and #PowerTheChange. We have put together simple actions you can take to do better for our planet.
Plant a tree to watch our Garden City flourish
Trees are extremely beneficial to the environment. They help to filter the air, reflect radiant heat and mitigate the Urban Heat Island effect. On top of that, they provide shade in open spaces, making it more conducive for activities like transportation and exercise.
Geneco is proud to join NParks in the One Million Trees Movement as part of the SG Green Plan 2030. As an organisation, Geneco has committed to 250 trees over the course of five years, and we had the honour of planting our first 50 trees at Windsor Nature Park on Earth Day this year. You can also be a part of this movement by NParks by contributing to planting more trees with a donation, or be a volunteer through the Friends of Trees SG programme as well!
Build a capsule wardrobe to challenge your inner fashionista
The term 'capsule wardrobe' may sound sci-fi and futuristic, but what it simply means is to curate a small set of clothes that you can wear for almost any occasion. The idea is often related to minimalism, but anyone can build a capsule wardrobe with a few key pieces. It is great way to take stock of your wardrobe to practise conscious consumption and to reduce unnecessary purchase of clothes you don't really need – which is definitely a plus for the environment too with a reduction in textile waste.
In fact, according to Forbes, most of us only use 20% of our entire wardrobe and the remaining 80% is under-utilised[1]. Yet, many of us still go shopping for new clothes when the latest fashion trends hit the store. While we understand the appeal of retail therapy and "looking good, feeling good", this can lead to unnecessary wastage and stress (especially when you spring clean and realise you have too much!).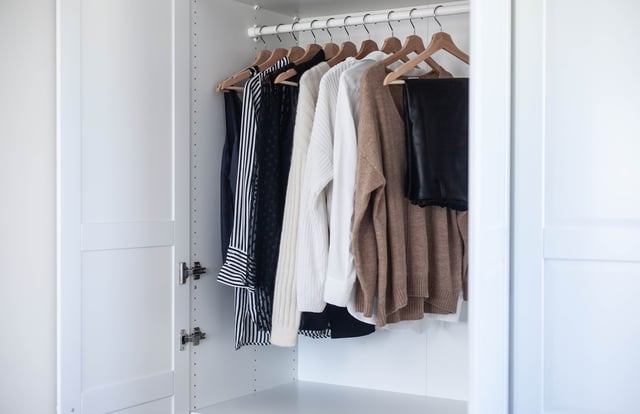 Capsule wardrobes are a great way to break this cycle. You can start by choosing a few staple pieces, such as sandals, sneakers, shorts and t-shirts – these are pieces that we might already have in our closets and are weather appropriate for our sunny island. As we re-enter our office spaces again, we can also include a couple of simple office dresses for the ladies or a nice set of shirt and trousers for the gents.
If you fancy a challenge, you can check out Project 333 or the Capsule Wardrobe Challenge and put your wardrobe curation skills to the test. The key is to get creative with existing pieces and find new ways to utilise what you already have. At the end of the challenge, you might realise that one does not need that many clothing items in our closet. As you look to consider discarding them, consider trading them in with one of our ChangeMaker partners – REFASH. Not only do they buy and sell pre-loved clothing, but they aim to work towards a zero-waste fashion industry.
Change the game by choosing to actively recycle
Recycling rates in Singapore have dropped in the past year due to the impact of the pandemic[2]. However, that should not stop us from doing our part and changing the fate of our waste by making a conscious effort to recycle.
Below are 3 simple steps you can follow to kickstart your recycling journey:
Step 1: Check the blue bins on what can be recycled (National Environment Agency has even provided a list here)
Step 2: Ensure all items are rinsed and not contaminated with any food or liquids
Step 3: Drop clean recyclables into the communal blue bins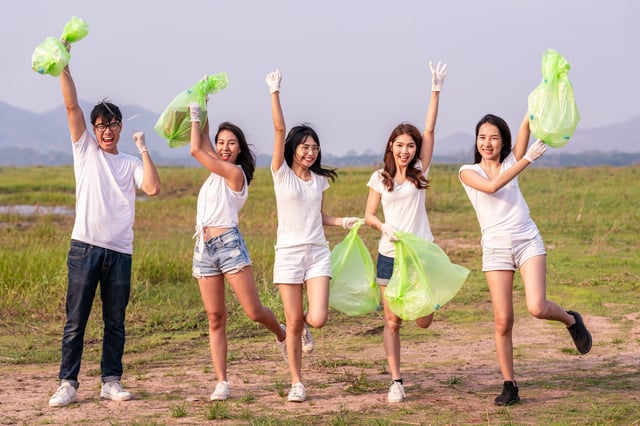 Recycling is not as tough as it seems. All you need is a little research on what can be recycled, proper guidelines and consistent practice. Bonus points if you can get your friends and family to join in!
Choose Renewable Energy Certificates (RECs)
You might have heard of the term Renewable Energy, which is essentially energy produced from natural resources. This is an option that is better for the environment, as compared to traditional energy sources that tap on finite resources.
Renewable Energy Certificates are unique and credible instruments that signify each megawatt of electricity produced is generated from renewable sources. Not only are they unique and cannot be reused once issued but purchasing them is also a much more viable option for individuals, especially when one may not have the resources and infrastructures for solar panel installation.
Geneco provides the option of bundling the purchase of RECs with our suite of green electricity solutions for any homes at your convenience. We empower households and companies to go green when you choose Geneco's renewable energy solutions for a more sustainable journey.
If you have the space for solar panel installation, why not consider Geneco's Power Eco Total Home Solution, whereby we make it easier for you with financing solution, exclusive rebates and even more savings on your electricity bills!
By simply taking the steps above, anyone can play a part in protecting the environment at an individual level. Let this month signify your first small step to #PowerTheChange with Geneco and keep our earth green and healthy!
References:
[1] (2021, May 14) Forbes. What Does Slow Fashion 'Actually' Mean https://www.forbes.com/sites/christophermarquis/2021/05/14/what-does-slow-fashion-actually-mean/?sh=2919916b73b4
[2] (2021, April 23) National Environment Agency. Reduction In Overall Waste Generation In 2020, With Less Waste Sent To Semakau Landfill