Living in a concrete jungle like Singapore, it may be easy to forget that we share our island with over 40,000 species1 of flora and fauna. These include native blooms such as the Wild Rose Apple and Akar Kepapal, which we've featured in our Chinese New Year Red Packets this year in collaboration with the National Parks Board (NParks)'s Garden City Fund, as well as a diversity of animals like owls, crocodiles and of course – our favourite families of otters.
This comes as no surprise since our sunny island used to be a rich and dense tropical jungle. While Singapore has rapidly urbanised since its early days, wild animals can still be spotted today at pockets of nature around our country given continuous conservation efforts.
If you're up to spot some elusive animals living within our midst, grab your hiking boots for a trip to the wild right here in Singapore! Explore the many green spaces on our little red dot and get ready to be fascinated by the myriad of species that call Singapore home. At the same time, do keep a look out for the many native flowers that we've mentioned in our previous blogpost here. These wildlife add to the dynamism of our urban city, and truly makes Singapore unique.
Without further ado, here's introducing five animals native to Singapore that can't be missed:
1. Estuarine Crocodile at

Sungei Buloh Wetland Reserve
Naturally found in our local wild, with its first sightings in Singapore tracing back to the 1800s2, the Estuarine Crocodile, also known as Saltwater Crocodile, is one of the largest crocodile species in the world and can grow to more than five metres in length3. This majestic creature often camouflages itself by keeping partially submerged in water, with only its eyes, nostrils, and part of its back exposed4, and can be found in coastal areas and wetlands such as our Sungei Buloh Wetland Reserve5.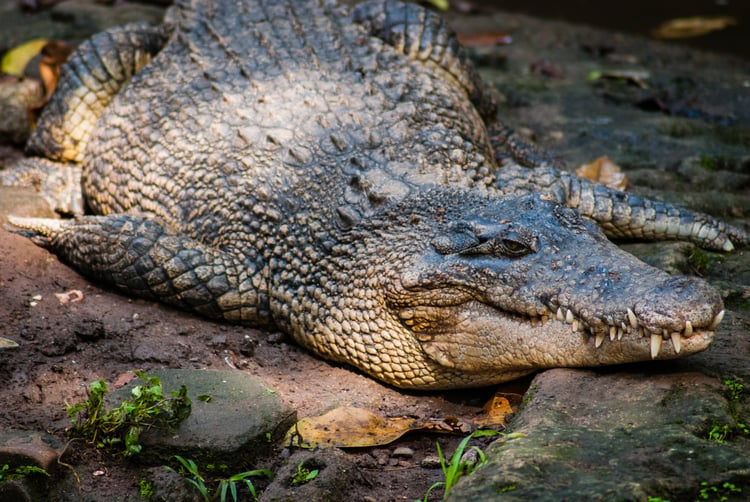 Fun fact: The Estuarine Crocodile has the most powerful bite out of all species of crocodiles, earning them the reputation as a top apex predator4!
Sadly, the Estuarine Crocodile is classified as critically endangered3 both internationally and in Singapore due to the destruction of its habitats, as well as overhunting for its hide to make products such as shoes and handbags. Overseas, its hatchlings are also sometimes sold as pets.
Besides keeping an eye out for these crocodiles, do look out for the wide range of native flora that Sungei Buloh is also home to. These include the bright yellow Sea Hibiscus6 and sweet scented Penaga Laut7 flowers, the latter of which is often used as dye, oil and even medicine. In addition, many native species such as the Mangrove Horseshoe Crab8 and Giant Mudskipper8 are also residents of Sungei Buloh. What's more, the wetland also counts reptiles such as the King Cobra8 and Malayan Water Monitor8 as part of its dynamic ecosystem.
2. Sunda Pangolin at

Bukit Timah Nature Reserve
The Sunda Pangolin, is a scaly mammal that is native to Singapore and the larger Southeast Asian region9. A unique animal unlike any other, the pangolin is covered with brown scales and has long claws as feet10. Found at various areas of Singapore, including Bukit Timah Nature Reserve9, this shy and solitary animal hunts mainly at night and feeds on insects such as ants and termites. For adult pangolins, it can consume up to 70 million insects every year9!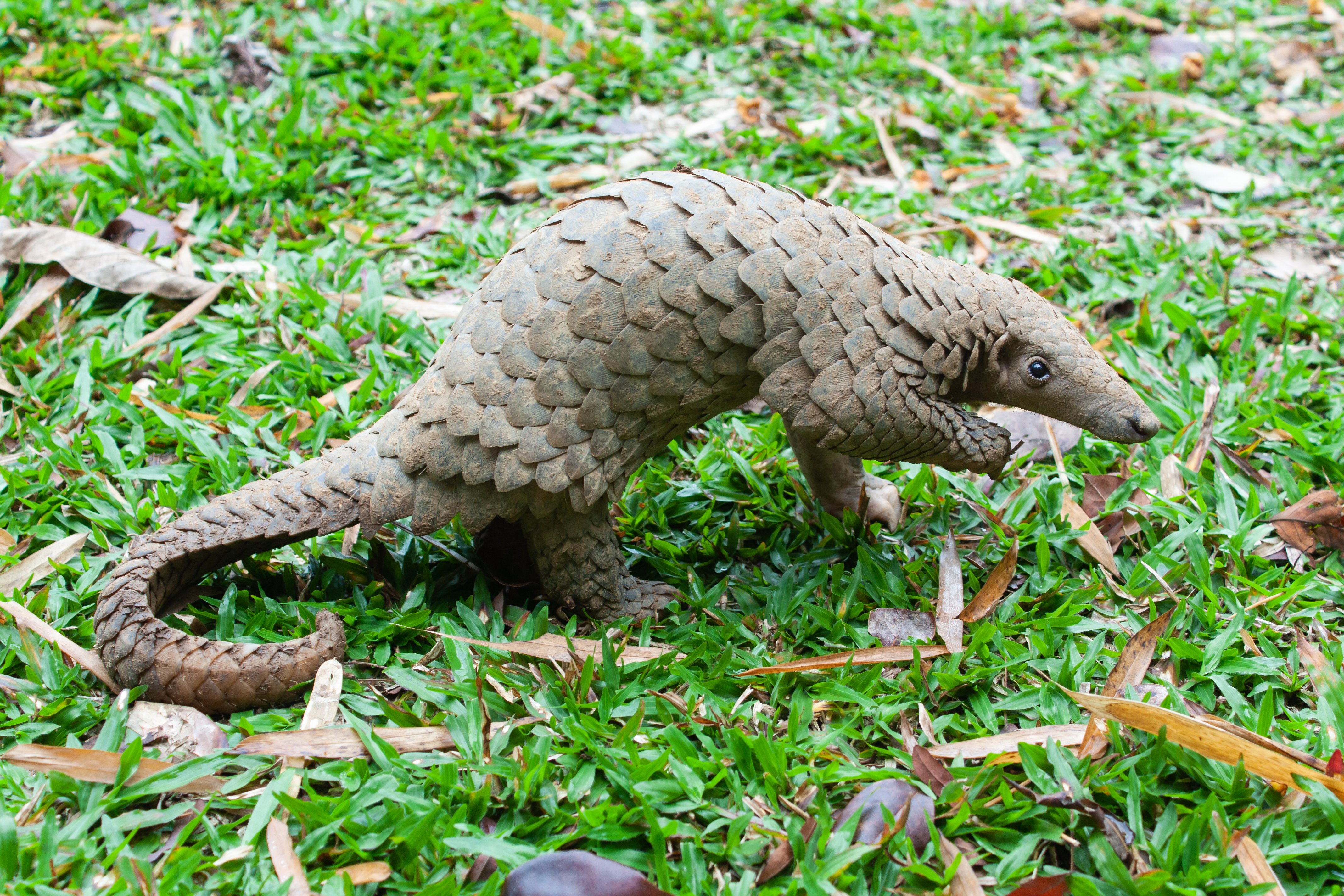 Fun fact: Its tough scales are actually made of compressed hair9! When threatened, the pangolin curls itself up into an armoured ball by wrapping its tail around its body to protect its non-scaly underparts, and may even use its anal gland to produce a foul smell to deter predators9.
Similar to the Estuarine Crocodile, the Sunda Pangolin is listed as critically endangered9 in Singapore due to the mass urbanisation that resulted in widespread habitat loss. Internationally, the low population of these animals can be attributed to over poaching for its meat and scales9. This is further exacerbated by its low fertility rate, resulting in its global population depleting much faster than it can recover9.
Given its elusive nature, it's your lucky day should you come across a pangolin when visiting Bukit Timah Nature Park! However, fret not should you not be able to spot one as the park is also home to a wide range of other native plants. This includes the Seraya11 that is one of the oldest trees in Singapore, estimated to be at least 150 years old12!
3. Common Palm Civet at

Bukit Batok Nature Park
Known affectionately as the Toddy Cat13, the Common Palm Civet is a nocturnal native mammal found in areas such as Bukit Batok Nature Park13. An omnivore, the civet can often be spotted navigating from tree to tree and feeding on fruits, leaves and worms13.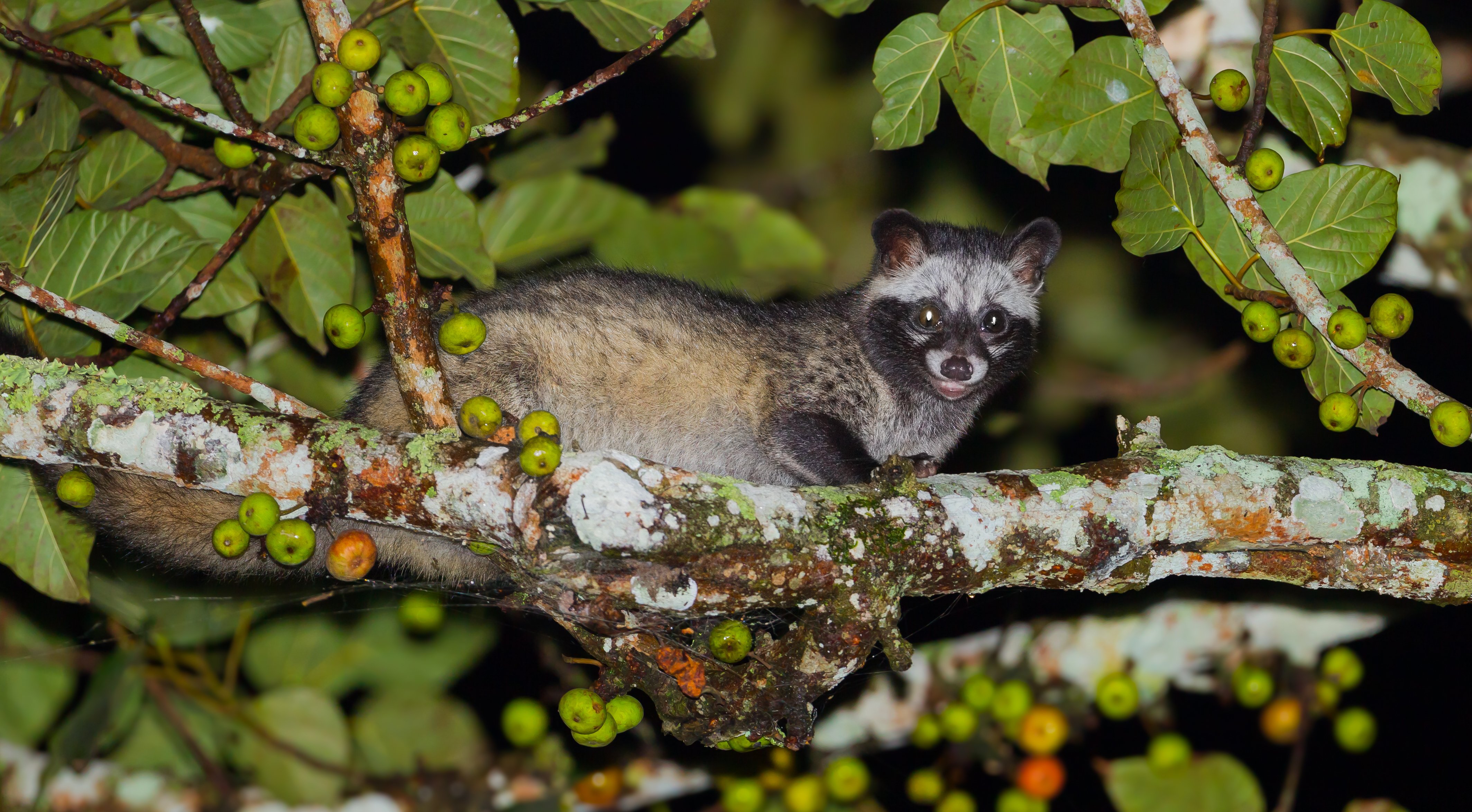 Fun fact: The length of its tail is almost of equal length as its entire body14!
Like other members of the civet family, the Common Palm Civet has a pair of stink glands near the base of its tail, which secretes a foul-smelling liquid when it feels threatened15. Interestingly, however, some have described these secretions as smelling like pandan16!
If you're a coffee lover, you may have also heard of civet-processed coffee, otherwise known as Kopi Luwak. However, due to increasing global demand for this type of coffee, it has given rise to unethical production practices17, often involving the poor treatment of these civets. Hence, should you come across Kopi Luwak, we'd encourage you to be mindful and say no to such coffee choices!
Besides keeping an eye out for these civets at Bukit Batok Nature Reserve, do also look out for the leafy Tembusu18 trees that are native to Singapore. These large trees can grow up to 25 metres18 in height and is one of the many heritage trees identified in Singapore.
4. Wild Boar at

Pasir Ris Nature Park
Native to Singapore, wild boars are large pigs that can weigh up to 100kg19. While they are natural omnivores19, these animals feed mainly on a plant-based diet that includes seeds, tubers and young plants19. With a keen sense of smell, these wild boars are foraging animals and are able to dig out underground tubers and seed for food20.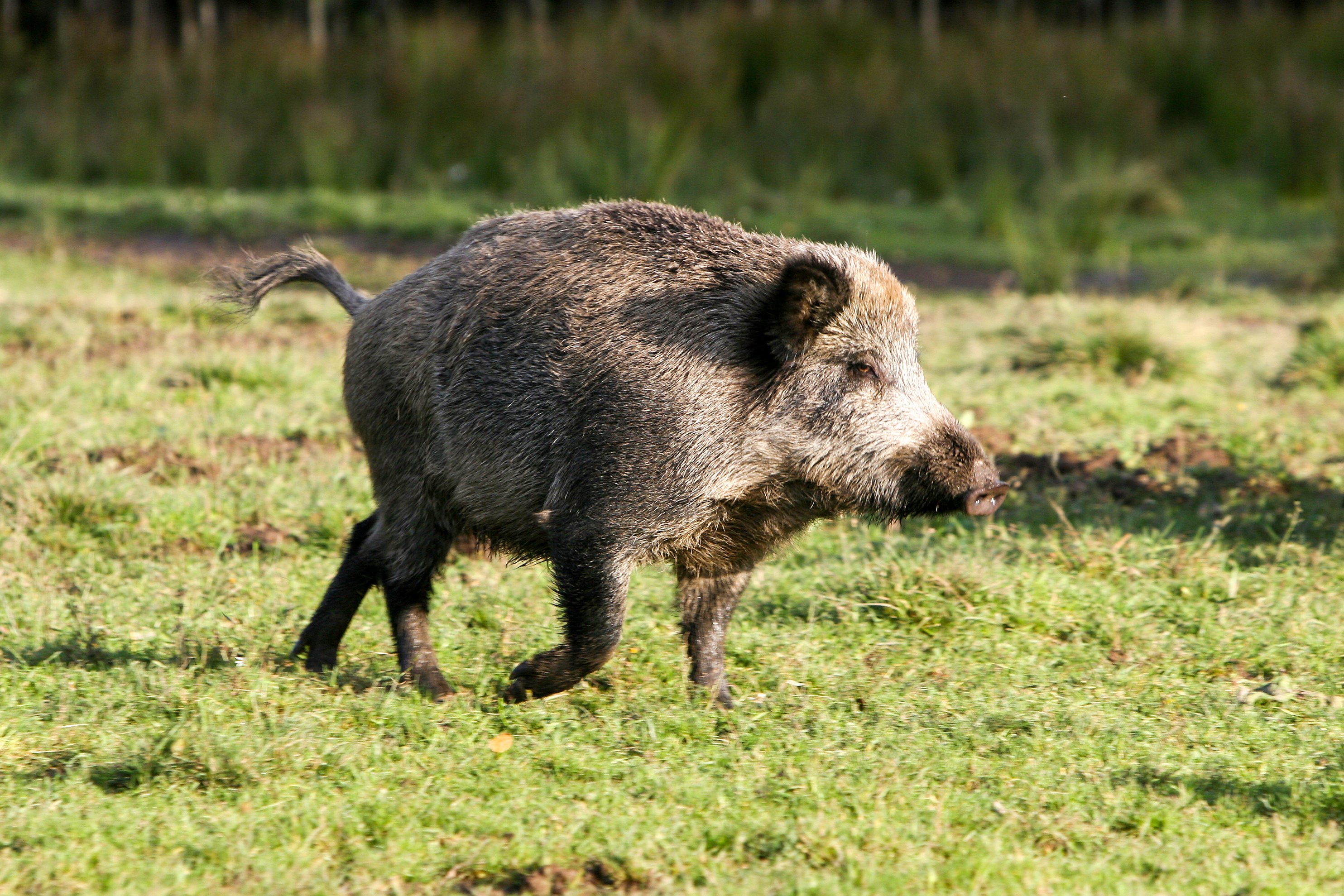 Fun fact: Despite their hefty weight, wild boars are surprisingly strong and fast runners20! They are also especially fertile, in which the females can start reproducing at 18 months19 of age and give birth to up to six piglets a year19!
In addition to spotting these animals at Pasir Ris Nature Park, do also keep your eyes peeled for the beautiful Blue Glassy Tiger butterfly21 that is also native to Singapore and identifiable by its unique bluish-grey wings. The park also features an edible garden21 with species such as lemon grass, tapioca and even the cocoa plant that is definitely worth exploring.
5. White-throated Kingfisher at

Punggol Waterway Park
With a dark chocolate head, flank and belly, the White-throated Kingfisher gets its name from its contrasting whitish throat that extends down towards its breast. It's electric blue wings and back also makes it easily identifiable from afar22. Native to Singapore22 and as one of the more common kingfishers in Southeast Asia22, it is highly adaptable and can be spotted frolicking at Punggol Waterway Park 23, alongside fringes of the reservoir as well as open fields.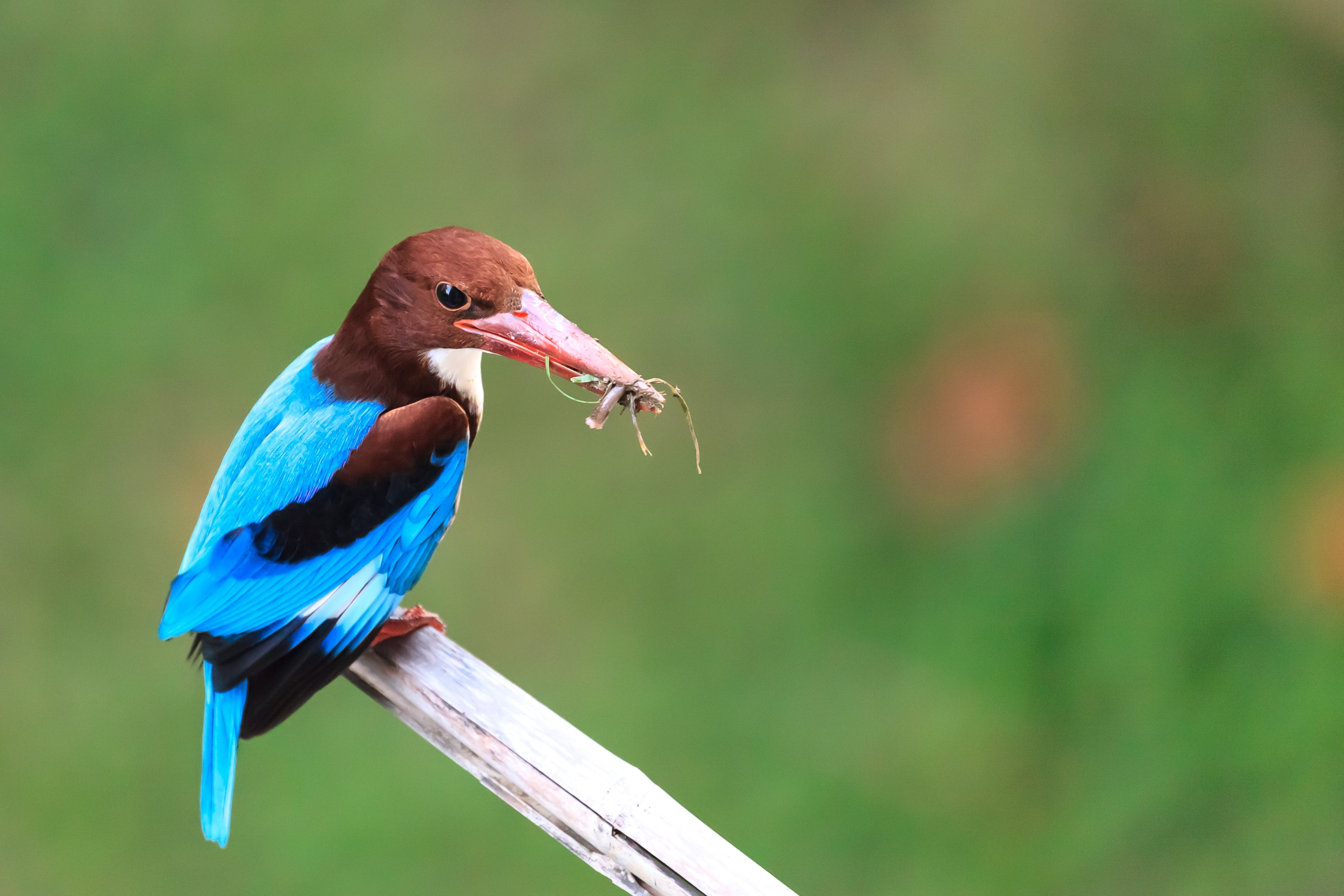 Fun fact: the White-throated Kingfisher is one of the bigger kingfisher species found locally and can grow up to 28 centimetres22. Its considerable size allows it to not only feed on insects, but also prey on fish and small animals22.
If you're heading down to Punggol Waterway Park to spot one of these lovely birds, do also check out Singapore's first man-made mangrove – My Waterway@Punggol24. This man-made site features a variety of freshwater-tolerant mangroves and houses many native plant species such as the Lumnitzera Iittorea24 and Kandelia candel24. Since establishing this site, it has attracted a spectrum of endangered bird species and flora, allowing them to flourish within the area and contribute to the thriving ecosystem.
We hope the above has pique your interest in heading out to discover and appreciate the whole range of wildlife we have in our country. If you're curious to learn more about the other animals inhibiting our sunny island, check out one of Sir David Attenborough's newest Netflix documentary here! Aptly named "Wild City", this film unveils a whole different dimension of Singapore and takes you through the various unseen natural treasures that we might not even be aware of!
Together, let us remember the importance of a sustainable living environment, and continue to #PowerTheChange by conserving our green spaces and protect our natural heritage, so that we can share this prosperity with future generations.
---
References:
(2018, October).

National Parks Board, Wildlife in Singapore

(2021, February).

National Parks Board, Estuarine Crocodiles

(2019, August).

National Parks Board, Crocodylus porosus Scheneider, 1801

(2021, August).

National Parks Board, Hibiscus tiliaceus L.

(2021, August).

National Parks Board, Calophyllum inophyllum L.

(2021, February).

National Parks Board, Pangolins

(2019, August).

National Parks Board, Manis javanica Desmarest, 1822

(2021, November).

Kidadl, The Asian Palm Civet: 15 Facts You Won't Believe!

(2014, November).

National Parks Board, Interesting Sights at Punggol Waterway Park
By Geneco
27 January 2022