Today, Singapore is one of the greenest cities in the world, safeguarding more than 7,800 hectares of green spaces. The Garden City we enjoy today is a result of decades of hard work by our forefathers, including our then-Prime Minister Lee Kuan Yew. Known as the "Chief Gardener of Singapore", Mr Lee introduced the "Garden City" vision in 19671, just two years after the country gained independence, with the aim to transform Singapore into a vibrant city with abundant lush greenery. This formed the core of our greening journey and the foundation in which our City in Nature2 vision, a key pillar of the Singapore Green Plan 2030, is built upon.
Over the past 50 years, more than a million1 trees have been planted across the island. Through such sustained efforts, our little red dot today boasts over 2,2003 plant species with a myriad of native flora and fauna thriving in these nature spots.
This Chinese New Year, we partnered with the National Parks Board (NParks)'s Garden City Fund to launch four exquisitely designed red packets spotlighting our native flora. With this initiative, we aim to build greater appreciation and conservation awareness among Singaporeans for our local blooms while encouraging the exploration of the abundant nature spaces in Singapore.
Each blossom featured on our red packets this year has its own unique story, and we're excited to share more about them today while introducing a few of our other native species which you can keep an eye out for during your next hiking adventure!
1. Rose Myrtle (Rhodomyrtus tomentosa) in

Coney Island Park
This beautiful magenta pink flower makes its home along the sandy beaches of Singapore's Coney Island and thrives on the sunny weather we enjoy in Singapore. Resembling Japan's famed cherry blossoms when in full bloom, the Rose Myrtle also produces a velvety fruit that serves as sustenance for many bird species, caterpillars, moths, and even humans!
This versatile fruit is used for a range of purposes including sweets such as jams or tarts4 and even medicines4 to treat stomach ache and diarrhoea. In Vietnam, the locals also ferment the fruit to make a type of Vietnamese wine4 known as ruou sim.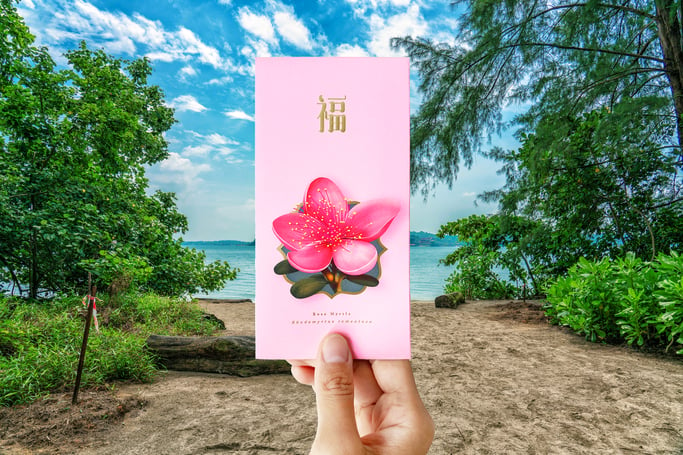 Besides the Rose Myrtle, Coney Island is also home to a variety of native flora given its recent habitat enhancement programme that aims to reforest over 50 different native coastal species5. Many of these reintroduced species are nationally critically endangered plants such as the small-leaved Nutmeg5 (Knema globularia), Silver Bush5 (Sophora tormentosa), and Damak-damak Tahun5 (Scolopia macrophylla), a tree which was presumed to be extinct until its rediscovery in 2014!
Till date, Coney Island is the only place in Singapore5 where the Damak-damak species can be found, thanks to sustained efforts to preserve our local natural heritage so do keep a look out when you head down for a day of exploration!
2. Derum (Cratoxylum maingayi) in

Windsor Nature Park
A slow-growing deciduous tree that can reach a whooping height of 30 metres6, the Derum can be found at the heart of Windsor Nature Park – one of Singapore's newer green spaces. The tree produces a faintly fragrant flora that ranges from eye-catching crimson to an interesting combination of pinkish-yellow.
While not commonly available, the Derum's durable timber6 can be used in construction and furniture-making. Unfortunately, due to the time needed for the Derum to mature completely, the tree has been classified as a critically endangered7 species in Singapore.
However, if you're hoping to catch a glimpse of this rare gem during your next visit to Windsor, just look out for a pop of reddish leaves against the otherwise uniform green landscape of other trees. A conspicuous feature, the young leaves of the Derum tree are notably reddish7 before maturing into a deep forest green.
What's more, keep your eyes peeled at Windsor's Hanguana trail for some rare native plants that are named after Singapore such as the Zingiber singapurense8 and Durio singaporensis8. Over the years, the replanting of over 4008 trees in the park, including a myriad of native species, has helped to enhance the habitat of Windsor. This in turn has helped in attracting and protecting our local fauna including native animals such as our Sunda Pangolin (Manis javanica)8 and the Mangrove Snake (Bioga dendrophila)8, which contributes to the biodiversity of the ecosystem.
3. Akar Kekapal (Hoya diversifolia) in

Pulau Ubin
Another critically endangered9 native plant, the Akar Kekapal is an epiphytic climber that often forms a dense covering on tree branches that they grow on. Resilient9 to a wide range of environmental factors, the plant can be found growing on mangrove trees in Pulau Ubin and even on oil palm in neighbouring Malaysia.
Its flowers9 often grow in umbrella clusters, forming a bouquet-like arrangement of star-shaped cream and pink blossoms that are stunning and fragrant to the senses.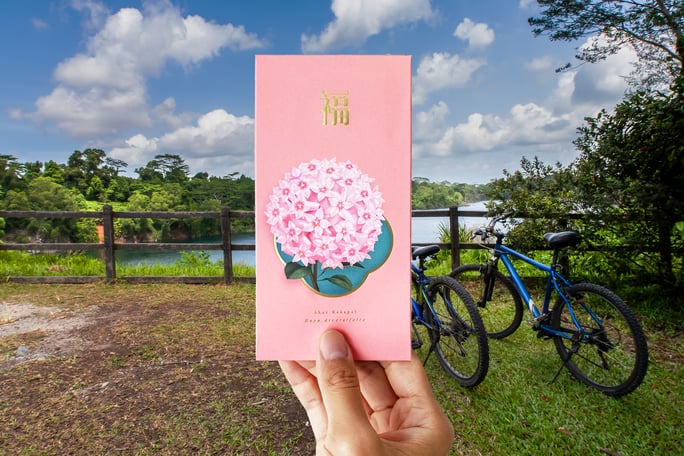 If you're on a quest to spot as many native plant species as possible, Pulau Ubin is the right place to be! In addition to the unique Akar Kekapal flowers, keep a look out for its abundance of local plants including the Ficus stricta10, a rare species of the strangling fig, and the Jamba (Neuwiedia veratrifolia)10, a yellow orchid that is critically endangered. According to NParks, it estimates that Pulau Ubin has over 78611 native plants, with many of them very rare and not found on mainland Singapore!
As the host to the largest mangrove areas in Singapore, Pulau Ubin is also home to one of the rarest mangrove species in the world – the Eye of the Crocodile10, otherwise known by its scientific name of Bruguiera hainesii. There remains only about 200 of these plants worldwide, with 11 of them found in Singapore.
4.Wild Rose Apple (Syzygium pycnanthum) in

Central Catchment Nature Reserve
Finally, the last (but not least) of our four flowers – the Wild Rose Apple an attractive and showy species with unique flora features. Similar to the Akar Kekapal, the Wild Rose Apple is tolerable12 against strong sunlight, high wind and frequent salt spray conditions; and can be found at the Central Catchment Nature Reserve and Pulau Ubin12. Both its flowers and fruits are edible and serve as food to many bird species.
The Wild Rose Apple is also classified as one of Singapore's critically endangered12 plants, joining the list of species that NParks is on a mission to conserve.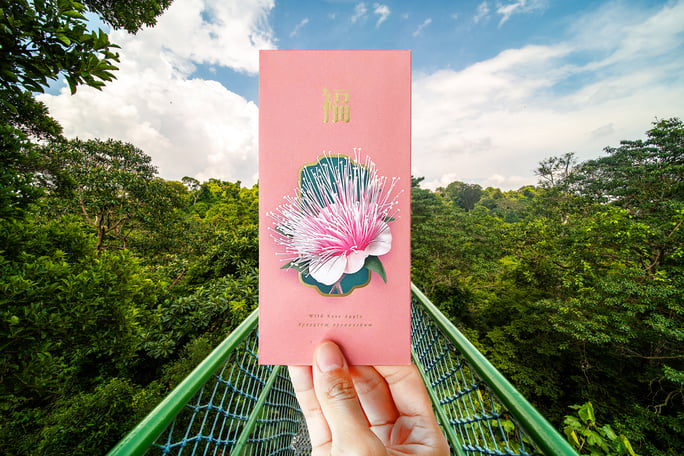 Besides the Wild Rose Apple, the Central Catchment Nature Reserve is also home to a wide range of native wildlife such as the Keruing13 (Dipterocarpus spp.), Colugo14 and the elusive Raffles' Banded Langur15. It is believed that there are only 6015 langurs left in Singapore, limited to the Central Catchment Nature Reserve – this means that the chance of spotting one is extremely rare so do keep an eye out for it!
As the largest of nature reserves, the Central Catchment Reserve is also known as the "green lung" of Singapore and is a popular spot for nature lovers!
Fun fact – it also features the only freshwater swamp forest found in Singapore – the Nee Soon Swamp Forest16 – so do head down to check it out!
We hope that these lesser-known facts have intrigued your interest and if you'd like to win yourself these red packets, take part in our social media contest on Facebook and Instagram where you simply have to tell us your favourite local nature park and the reason why.
Two lucky winners will even walk away with a year worth of free electricity with Power Eco Add-on, Singapore's first and only customisable green add-on for an electricity plan, plus a set of Limited Edition Geneco Red Packets! 50 lucky winners will also get to receive 2 sets of red packets and $28 eCapitaVouchers!
So what are you waiting for? Lace up your walking shoes and explore the various green spaces that Singapore has to offer.
Together, let's continue to #PowerTheChange and conserve our natural biodiversity, and share our prosperity with our future generations as we build our City in Nature!
---
References:
By Geneco
12 January 2022