Advocating for a more sustainable lifestyle for our customers has always been at the core of Geneco. Beyond our position as a leading electricity retailer in Singapore, we believe that we have the responsibility to do good for our future generations and to protect the environment.
In celebration of Geneco's 3rd anniversary and Earth Day 2021, we recently held our inaugural Plant-A-Tree event at Windsor Nature Park as part of our commitment to National Parks Board's #OneMillionTreesSG movement. Presiding over the event was our newly appointed Chief Executive Officer of Geneco - Mr Lim Han Kwang, alongside our ChangeMakers partners – The Food Bank Singapore, Comcrop, Cultivate Central, Refash, Repair Kopitiam and Green Nudge, and Standard Chartered Bank partner. Sharing the same vision of creating a better and cleaner tomorrow for the future generations, these like-minded organisations took time out for this event to do their part for an environmental cause.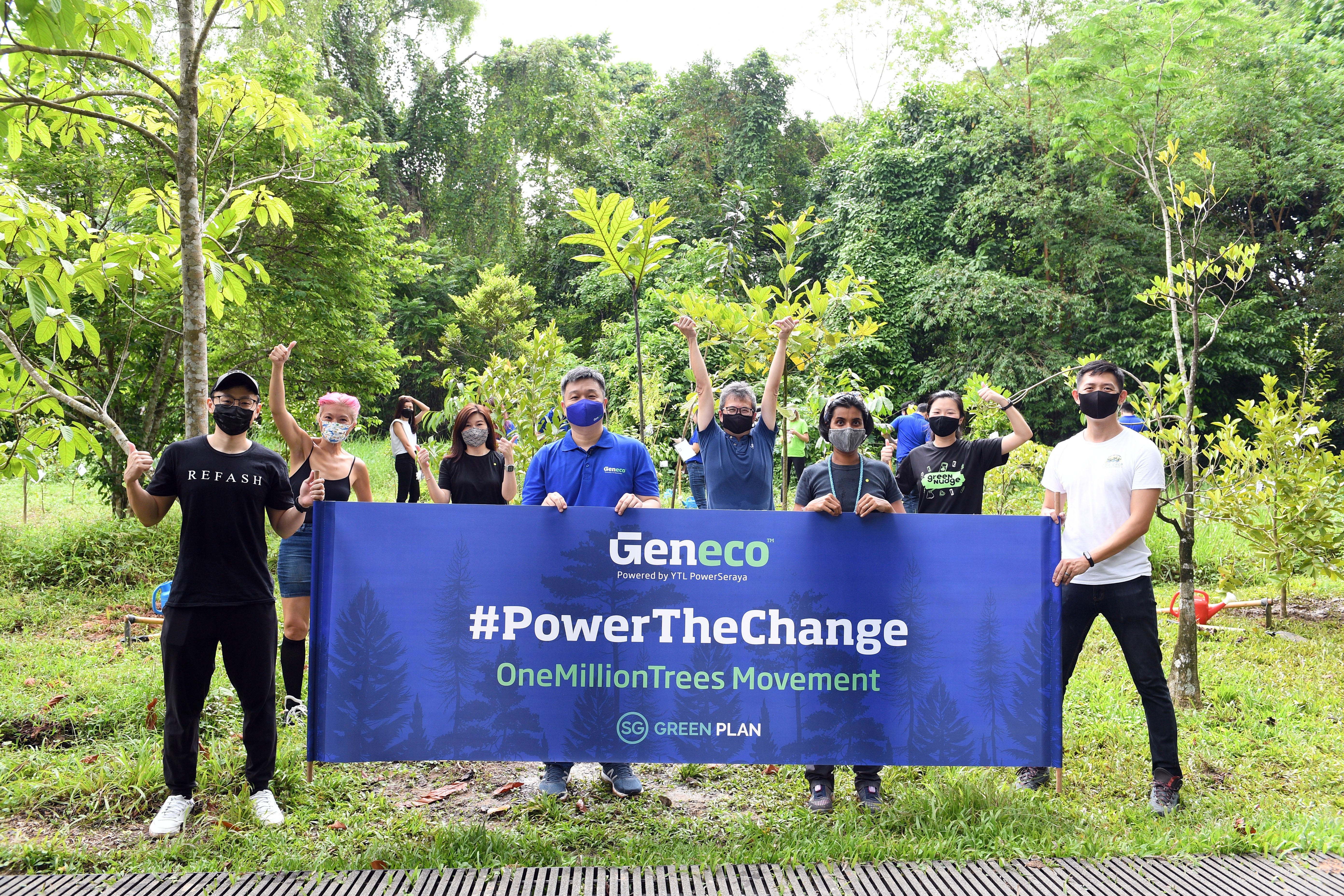 From left: Shawn Cheo (Refash), Nichol Ng (The Food Bank Singapore), Genevieve Ng (Standard Chartered Bank), Lim Han Kwang (CEO, Geneco), Danny Lim (Repair Kopitiam), Nova Ceceliana Nelson (Cultivate Central) and Darren Tan (ComCrop).

Planting the first 50 of the 250 trees we have pledged for the next 5 years, this commitment also aligns our support for the nation's SG Green Plan, as well as the continuous efforts to #PowerTheChange for a more sustainable and greener nation.
In his opening speech at the event to mark this special occasion on Earth Day 2021, Mr Lim also announced Geneco's new comprehensive suite of sustainable energy solutions to ease and encourage customers to adopt an eco-friendlier lifestyle.
If you are kickstarting your eco journey and are overwhelmed by the multiple green energy options out there, here is a guide on our newly launched sustainable energy solutions for your home to consider.
Power Eco Total Home Solution
Customised renewable energy solution (solar panel installation with optional green electricity plan)
The Geneco Power Eco Total Home Solution provides solar panels installation for landed residential homes with optional add-on of any of our green electricity plans.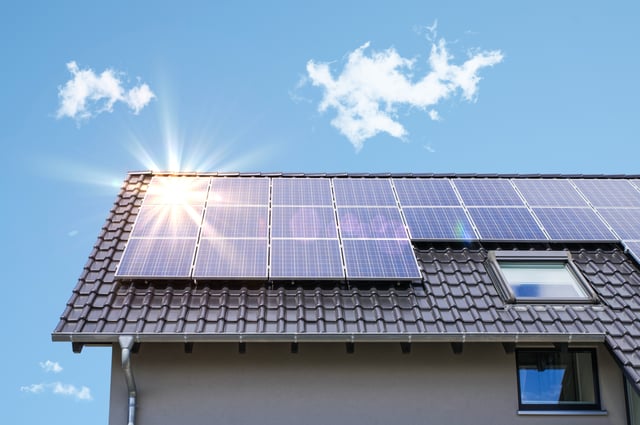 Available to both existing and non-existing Geneco customers, the solar panel installation service provides customers the opportunity to do good for the earth by adopting a 100% carbon neutral lifestyle, and also reduces up to 9,300 kg of carbon dioxide, which is equivalent to the annual CO2 absorption by 462 rain trees. Excess energy produced can also be sold back to the grid.
The benefits from this installation go a long way where households get to enjoy lower electricity cost, saving up to $4,600 on your electricity bills each year. What's more, households even get to enjoy additional savings with up to $1,000 Geneco of bill rebates!
To ease the set-up cost of the solar panels' installation, Geneco has partnered with Standard Chartered Bank to bring customers an exclusive promotion of up to $1,250 cashback with the approval for CashOne personal loan.

Power Eco Total Home Solution
Offset up to 9,300kg of greenhouse gases

Save up to $4,600 a year on electricity bills

Enjoy up to $1,000 Geneco Bill Rebates

Get up to $1,250 Cashback for Standard Chartered Bank CashOne personal loan

Complete your Power Eco Total Home Solution with any of the following green electricity plans below to go 100% eco-friendly.
If you are unable to install solar panels for your household, you can still do your part to offset your carbon footprint by signing up for a standalone eco plan for your residence. Furthermore, for a limited time only, Standard Chartered Bank credit card holders get to enjoy additional $35 bill rebate on top of prevailing promotions for new sign-ups with Geneco's green plans when they set up recurring bill payment.
Get Sunny
100% solar energy plan
Solar energy has been touted as a key pillar in Singapore's energy future with it gaining traction progressively. The ability of solar energy to reduce harm on the environment and the long-term benefits to our climate has garnered the attention of many consumers and organisations.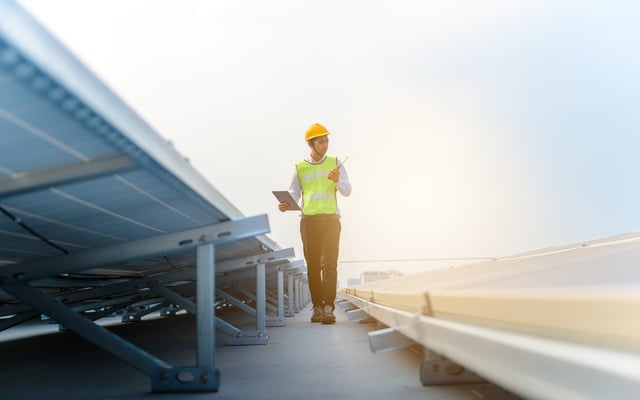 With Geneco's Get Sunny electricity plan, it is a 100% renewable energy option that will be powered from Geneco's parent company YTL PowerSeraya's own solar photovoltaic (PV) system. This makes choosing a renewable energy plan a reality for residential households who would like to make the full commitment by choosing renewable energy but may not have the necessary infrastructure or resource to make it a reality.
If you are thinking of switching to a renewable solar energy plan, consider Geneco's Get Sunny - where you will also receive a Renewable Energy Certificate, to pave positive impacts for the environment and #PowerTheChange.
Get It Green
100% carbon-neutral electricity plan
The definition of carbon-neutral electricity is to offset the amount of electricity generated from a person's carbon footprint. This is executed through carbon credits which allows you to pay to reduce the carbon emissions that you have generated. Funds generated from the purchased credits are channelled to certified climate action projects. These projects reduce, remove or avoid greenhouse gas emissions and are a great way for any businesses, households or individuals to make a choice and help organisation to take immediate action.
Geneco's Get It Green is a 100% carbon-neutral electricity plan that lets you do good for the earth even while consuming electricity at home for your daily needs. You will also receive Verified Carbon Units Certificate for making a simple yet conscious choice to offset your carbon footprints.
Here at Geneco, we understand that starting your eco journey might seem daunting, which is why we have launched this comprehensive suite of sustainable energy solutions to ease and encourage you to adopt a greener lifestyle.
The SG Green Plan 2030 has outlined the transformation we can expect for Singapore within the next decade as the nation furthers its green ambitions for a more sustainable future. With every kilowatt of energy consumed, make your usage count and #PowerTheChange with us today to secure a better environment for the future generations.