In recent years, we are heartened to see the rise of many youths taking charge to help build a greener future for themselves with meaningful eco-initiatives and purposeful green businesses. Whether it is an individual or creating communities, they are set to empower everyone to take part in their mission for a more sustainable nation. Let's take a look at the noble efforts of these young advocates as they passionately devote themselves to bringing all of us closer to their common green vision.

1. Taking small steps towards sustainable living
Embracing a sustainable lifestyle is something that needs time to develop and sometimes research needs to be done, which can also be time-consuming for those who just started to embark on their eco-journey. If you're on the lookout for ways to introduce small steps to build a better planet, The Sustainability Project opens its doors to you with its one-stop platform!
The Sustainability Project
Jo, also known as Joline Tang, is the founder of The Sustainability Project (TSP). She has been an environmental advocate since her polytechnic days. From lecture notes to metal cans, she would find various opportunities to recycle them. During her university days, she had the opportunity to travel to Norway for a university exchange program. This trip gave her the courage to start TSP and since then, she has only one goal in mind for TSP - 'Sustainable Living Made Easy'.
At TSP, Jo breaks down hard and difficult topics into smaller actionable workshops, talks, activities and donation drives for the public to take part in. One such activity is Zero Waste Packaging Initiative, where they collect used packaging and repurpose them into other packaging.

Apart from selling sustainable items on their online shop, TSP also offers sustainable business consultation services to other small business owners.
If you are looking for a place to kickstart this exciting initiative, you can join the TSP volunteer program! Various volunteer positions, such as writer, workshops, social media, and others are available. Or do visit TSP on Instagram to find out more!

2. Educating the public through fun, bite-sized graphics
Illustrated stories or comics could be a great way to get youths interested in environmental awareness. Youths have always been enamoured by colourful, easy-to-understand stories and relatable mascots. That's how climate activist Woo Qi Yun chartered her course of environmental studies through a unique style of doodling on social media.
The Weird and Wild & Climate Cheesecake
To capture the hearts of today's youths, Qi Yun started The Weird and Wild, a creative platform that focuses on communicating environmental awareness through technology and design. Her creations made sustainability simple, accessible, fun and digestible.
Through her self-taught talent - doodling, Qi Yun regularly updates her creations on her website and Instagram. She covers hard topics about irregular local hot weather conditions, climate action, wildlife preservation, rising sea water and climate reports. She has also created an adorable frog-like mascot to tell stories on various environmental messages in her own unique ways.
Together with a group of young environment enthusiasts, Qi Yun has also made a collective effort to kickstart a podcast programme named The Climate Cheesecake Podcast. It is a weekly Spotify series that "breaks down heavy climate topics — just like cheesecake!". The half-hour-long episodes are entertaining, casual and insightful and together with the charismatic hosts; Rachel, Sankar and Movin, they provide refreshing perspectives on sustainability and environmental issues in each episode.
In one of their recent episodes, "Last Time My Kampung Have", The Climate Cheesecake Podcast talks about the loss of forest biodiversity to our rising demand for resources and explores alternatives to ensure a more responsible consumer lifestyle.
If you are interested to hear more about this group of young advocates, follow The Climate Cheesecake Podcast on Spotify or Climate Cheesecake on Instagram. You can also get the latest updates of Qi Yun, The Weird and Wild on Instagram!

3. Connecting with nature through art
'Art is often magical' - this clearly illustrates how Singapore-based artist and writer Dorcas, works her magic to create powerful art to share her own message of sustainability. Through her unique creation, Dorcas expresses the deep connection she has towards people, wildlife, plant life, and the planet we all live on. Dorcas uses art on her own website and Instagram as a medium to advocate various environmental and social issues that happen both locally and worldwide.
Nature Art Classes For the Young
"I don't know if this will change anything, but I know it's the right thing to do" - This sentence is often mentioned by Dorcas. She hopes to put her vision of the world into creative practice, and continue to guide and teach everyone to create an impact the world needs.
Dorcas teaches two forms of art classes. In Intertidal relics classes, her students will get to experience how to create basic shapes, understanding colour theory and textures and illustrating any character of their own choice. Whereas in the 'Earth Painting' classes, she teaches students to create art pieces with soil so that the students will get to experience using natural materials and be more connected to the motherland.
Don't miss these unique classes by looking out for their next session here. If you also find Dorcas's unique are helpful, do support her on her website or follow her on Instagram.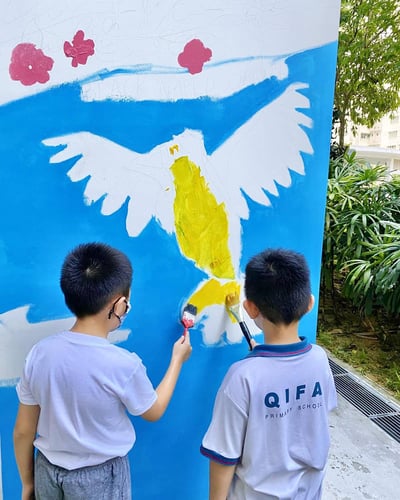 Source: @earthtodorcas
Generation restoration is a new era where youths come together to create green initiatives for the environment. Just like how Jo, Qin Yun and Dorcas have created a movement of their own, it is heartwarming to see them continuously using various new ways to advocate for the causes they believe in.
To build a greener environment for everyone, climate restoration is a collective effort for everyone. Let's be inspired by the youths of tomorrow and continue to contribute through our daily green efforts.
Together we can #PowerTheChange and build a greener world for the next generation.
By Geneco
27 October 2022