Whether you have resolved to declutter your wardrobe, it is always a good idea to start the beginning of the year with a fresh and organised wardrobe to get you kickstarted on a clean note. With Chinese New Year right around the corner, it may even be that extra motivation to do a spring cleaning of your closet. But if you are not sure how or where to get started, we have curated a step-by-step guide that will take you from A to Z on getting your wardrobe clean while still doing good for the earth.
Step 1: Take it all out
The first step is the easiest step and certainly not much of a huddle to get you started. Simply begin by taking everything out of your closet, empty your drawers and get your hangers off the rack. It might seem like you are creating a mess, but in fact emptying your wardrobe is very much a good check on the total amount of clothes you have. This is to help you realise and give you a sense of the magnitude of clothing items that you own, and certainly a reminder on your consumption habits. Once you have a good idea on the total number of clothes you own, it easily brings you to the next step of the cleanout.
Step 2: Set a goal
Once your clothes are all together in a giant pile, take note of the size of it and set goals to manage your wardrobe situation. If your wardrobe is bursting and your pile of clothes seems to be a huge mountain, think about the outcome you would want to achieve. It could be mixing and matching your outfits among key pieces in your collection that you frequently wear, or simply choosing to pass on any clothes that has not been worn for the past year or so.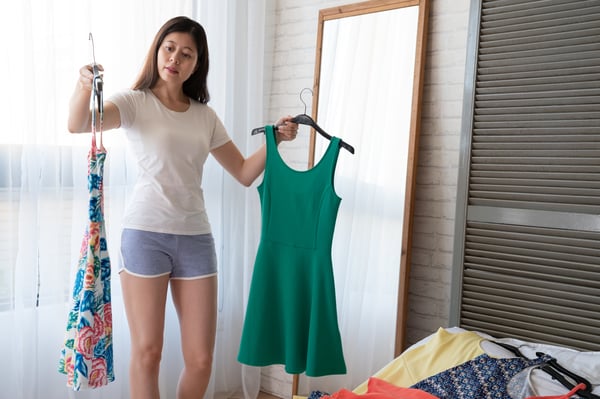 A great tip that could get you started on your goals for your wardrobe is the "one item in, one item out" rule. For every new piece of clothing you introduce, you will need to get rid of another to prevent an overcrowded wardrobe. With a clear intention set in mind for your wardrobe, it will not only help you in the next step of the decluttering process, but it could be the anchor in your shopping habits whenever you are looking to add new pieces into your collection, encouraging you to think twice before carting out.
Step 3: Categorise and sort
Now comes the hardest part which is for you to tackle the pile of clothes that you have created and categorise them into a "throw" or "keep" pile. With every piece of clothing, you can decide by asking the great question of whether you have worn it in the past six months. If you catch yourself thinking you will wear it in the future but have not worn it a single time in the past six months, it may be time for you to let it go into the "throw" pile. In addition, any items that are damaged beyond repair, do consider throwing them out as well.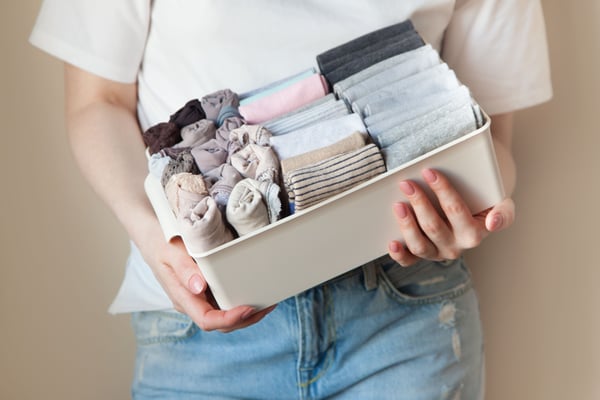 With the items you have set your heart on keeping, evaluate the categories you can sort them under and have them arranged in order within your wardrobe. From t-shirts to undergarments, having categories will help allocate each item to a spot it owns.
Step 4: Rethinking the "throw pile"
You should have a much tidier and neater wardrobe at this junction with a "throw pile" set aside. With this pile of clothes, there are many ways to deal with it and they may not necessarily entail discarding them. In Singapore, according to figures from the National Environment Agency, 168,000 tonnes of textile waste were produced in 2019, of which only 4% was recycled [1] ! Should your clothes be in a mint condition with minimal damage, consider the following ways to repurpose them that will be of good for the environment.
Upcycle
Clothes does not just have to function as clothes. Upcycling them can inject new life into these garments and create something entirely new. You could turn an old t-shirt into a reusable bag or have your socks function as hand puppets that are fun to entertain your children!
Sell online or do a swap
While a piece of clothing may be of a style you have outgrown or it simply no longer fits, consider if it could be an item someone else would appreciate. Organise a clothes swap with your friends to experiment with different styles of clothing from each other's closet or sell it on a local marketplace such as our ChangeMakers partner REFASH, a secondhand fashion marketplace that looks to connect women's closets and reduce textile wastage in Singapore!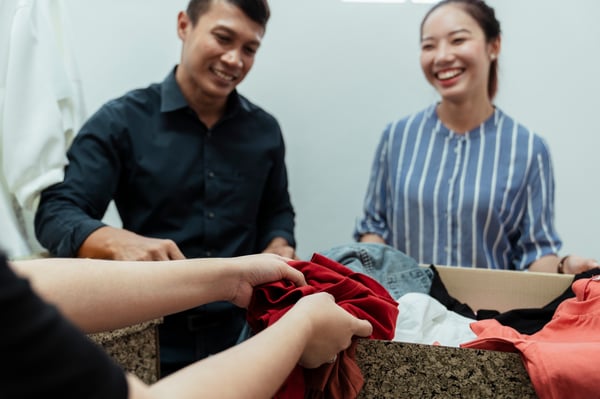 Donate
Clothes donation bins by various organisations across the island are great options as well. Most of these donation bins are tied to businesses with a cause or an organisation looking to do good for the community. By contributing your lightly worn clothing, your clothes are certainly given a new lease of life with it either being rehomed to an individual who enjoys it or used to raised funds for a good cause.
Organising your closet may seem a daunting task at first, especially with a bursting wardrobe of clothes. However, by repurposing the pieces that you no longer wear into new homes and evaluating your consumption habits, it serves to start your year on a sustainable note, breathing life back into your clothes and our planet!
As you clean up your wardrobe this Chinese New Year, don't forget to clear out the old red packets that you may have accumulated as well. In partnership with CRU, IUIGA, REFASH and Tay Paper Recycling, Geneco is introducing used red packet recycling bins across 29 public locations from 10 February to 8 March. Collected red packets are recycled into paper pulp and repurposed into other paper products! For more information on the locations click here! Let's all take this opportunity to Power The Change together for the planet!
References
[1] NEA. (2019), Waste Statistics and Overall Recycling
https://www.nea.gov.sg/our-services/waste-management/waste-statistics-and-overall-recycling
By Geneco
01 February 2021