With mangroves fringing our shores, sunlit parks along the city and gardens atop our housing estates, we are fortunate to have the abundance and accessibility of green spaces all around us, and right in front of us. Besides enjoying cleaner and cooler air, spending more time in nature can help us to reduce our stress levels and improve our health and wellbeing.
Amidst our hectic lives, how do we best reconnect with nature, while doing our part to protect our lush greenery and biodiversity? Here are 3 organisations that can help us understand how we can appreciate and safely coexist with the wildlife and green spaces in our city, as we transform into a City in Nature.

1. Understanding and fostering positive relationships with our wildlife
As a home to large varieties of native wildlife, encounters with wild animals, such as wild boars and otters, in our everyday urban landscape have become increasingly common. Singapore is currently one of the greenest cities in the world, with estimates of more than 390 species of birds and 2,100 native vascular plants – transforming into a true City in Nature.
Living close to nature comes with many benefits, but it also comes with important responsibilities – because it means that we encounter wildlife more frequently. If you've ever spotted a wild animal and were unsure about what you should do, can do, or should be aware of, you should check out Our Wild Neighbours (OWN).
Our Wild Neighbours (OWN)
Every month, the Urban Wildlife Working Group (UWG) receives an average of 2500 calls from the public about wild animals, and it became apparent over time that there was a lack of understanding and preparedness for Singapore's native wildlife in the country. With the continued thriving of our local terrains, the UWG started the OWN initiative to promote coexistence with our native wildlife.
OWN aims to bridge the gap in understanding between members of the public and the wild, empowering members of the public with wildlife etiquette knowledge, and educating them about ongoing rescue, rehabilitation, and release efforts. The OWN website is a one-stop platform for best practices on what you can do when you see wildlife, how you can prevent unpleasant interactions, and who you can call for help if you spot a wildlife in need. The campaign focuses on key species of wildlife found in Singapore: koels, bats, civets, macaques, monitor lizards, crocodiles, otters, snakes, wild boars, and pangolins!
If you are interested to learn more about the variety of native wildlife in Singapore, you can check out their website.

2. Growing a love for nature from young
When it comes to building a relationship with nature, it is a good idea to start positive practices and understanding from young. Research suggests that nature-based learning and education improves a child's academic performance and builds critical thinking skills. On top of that, spending time in nature makes room for a healthy exposure to Vitamin D, and reduces anxiety and stress levels in children.
Though cultivating an appreciation for nature takes time, we encourage starting small with Roots & Boots.
Roots & Boots
Inspired by the forest school pedagogy originating from Scandinavia, Roots & Boots takes a unique approach to education by encouraging nature exploration and play in children as part of their growth and education from the early years.
Through a holistic approach, children can solidify their academic and social-emotional growth through their interactions and enhance their appreciation for nature, environmental education, and STEAM learning (science, technology, engineering, art, and mathematics). The outdoor learning environment also strengthens the bond between our little ones and the natural environment around them.
There are a variety of one-off enrichment programmes available outside of the school curriculum such as the Nature Explorers and the Young Adventurers programme. These programmes are created to provide a safe space for children to explore and learn from their encounters, and nurture their appreciation for the environment.
Nature Explorers
Parent-accompanied and suitable for children 2 years and younger, the Nature Explorers programme provides limitless opportunities for young children to experience and encounter the outdoors using sensory and language-rich guidance.
The Young Adventurers
Young adventurers from 3 to 10 years old can also have a go at independent play in nature. Whether rain or shine, these sessions are designed to include a great deal of discovery and adventure at various outdoor locations in Singapore. This will provide Young Adventurers with opportunities for inquiry, experimentation, reflection, and play as they get acquainted with the outdoors.
If you're interested in signing your little ones up for a new adventure, you can find more information on Roots & Boots' website and Instagram page.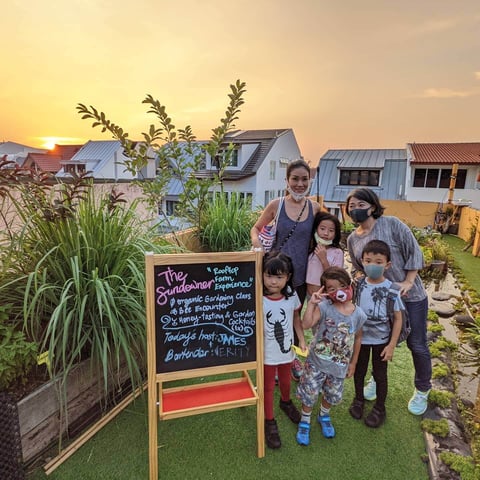 3. Unwinding in nature atop an iconic 1960s shophouse
Whether it's for the young or old, it's always exciting to find nature where you least expect it. If you're looking for an urban oasis to disconnect from the city life and get in touch with nature, you will be happy to find The Sundowner.
The Sundowner
When Clarence Chua, founder of The Sundowner, first chanced upon the empty concrete rooftop in 2020, he knew it would be just the spot for travel-starved souls in Singapore to find the perfect escape. The Sundowner sits atop the bustling cafes and bars of the Siglap restaurant belt in a shophouse roof. The unique vision for the space stemmed from the idea of having a 'sundowner' at the end of the day – a practice in the safari where one enjoys a drink at the end of the day while watching the sunset. It is a nature-based social space for like-minded lovers of nature and tranquillity to mingle and unwind.
On top of that, The Sundowner also organises a range of experiences such as nature-based workshops, lifestyle activities, and other farm encounters for people of all ages to participate in. One of their most popular rooftop farm experiences is the Bee Encounter. You get to don a bee suit and enjoy a closeup encounter with bees, where you will get to inspect a beehive and observe them harvesting nectar from around the farm. Every nest in their apiary is a rescue, so you will also be supporting local ecology. This 1.5 hour interactive farm experience is perfect for kids and young families, to get them away from the computer screens and interacting with nature.
If you would like to check out the various workshops and private experiences they are organising, head over to their website and Instagram page.
Inspire a more sustainable home with #GreenForProsperity
This Chinese New Year, we have kicked off our #GreenForProsperity initiative, to inspire Singaporeans to look deeper into our green spaces and contribute to the conservation of our native biodiversity, so that we can build a sustainable home for our future.
Choose #GreenForProsperity with us this year by joining us to pledge your support of biodiversity conservation efforts! We will be donating $10,000 to the biodiversity conservation and research efforts by National Parks Board's registered charity and IPC, Garden City Fund, but we need your help – pledge to show your support here and we will donate on your behalf.
We're also excited to bring back our inaugural Used Red Packet Recycling Bins initiative after last year's successful collection and recycling of 1,040kg of red packets.
From now till 31 March, simply drop off your used or excess red packets at any of the 30 Used Red Packet Recycling Bins at our partners' locations – CRU, IUIGA, Refash, OTO, and Wisma Atria – island-wide. These red packets will then be pulped by Tay Paper Recycling and made into paper products.
And while you're doing good for the environment, share with us which Used Red Packet Recycling Bin location you will be dropping off your red packets at on our Instagram or Facebook posts to stand a chance to win $28 worth of eCapitaVouchers!
As we look towards embarking on a greener journey this year, we hope that you will be inspired to support and protect our biodiversity and green spaces for a brighter and more sustainable tomorrow.
Together, let's Power The Change and choose #GreenForProsperity.
Not just for us. But for generations to come.
By Geneco
18 January 2023