Tea is the most popular beverage in the world, placing ahead of other well-loved beverages such as juices, beer and even coffee. This is unsurprising since there is a tea perfect for every occasion – whether an English Breakfast as a perk-me-up in the morning or a calming chamomile as part of your nightly wind down routine.
Besides being as a tasty drink to sip on, tea is also known for offering plenty of health and wellness benefits. According to HealthHub, tea contains high antioxidant levels which helps in high antioxidant levels which helps in reducing the risk of cardiovascular disease.
In addition, studies have also shown that teas can help in boosting our immune system, fight off inflammation and even minimise the likelihood of cancer and stroke.
For those of us weary and stressed from working from home, brewing a quick cup of lavender or mint tea can also introduce a little pocket of zen into our daily routine and serve as a great stress reliever!
However, while you can easily purchase tea blends from stores, high quality tea blends may be relatively costly. Some manufactured blends may even make use of artificial flavourings, which may be bad for our health in the long run.
The many benefits of making your own tea blend

Instead of buying pre-packaged tea, how about choosing to make your own custom tea blend? By purchasing loose tea leaves and herbs, it not only ensures a fresher and more robust taste but also promises for you to benefit from its higher nutritional value.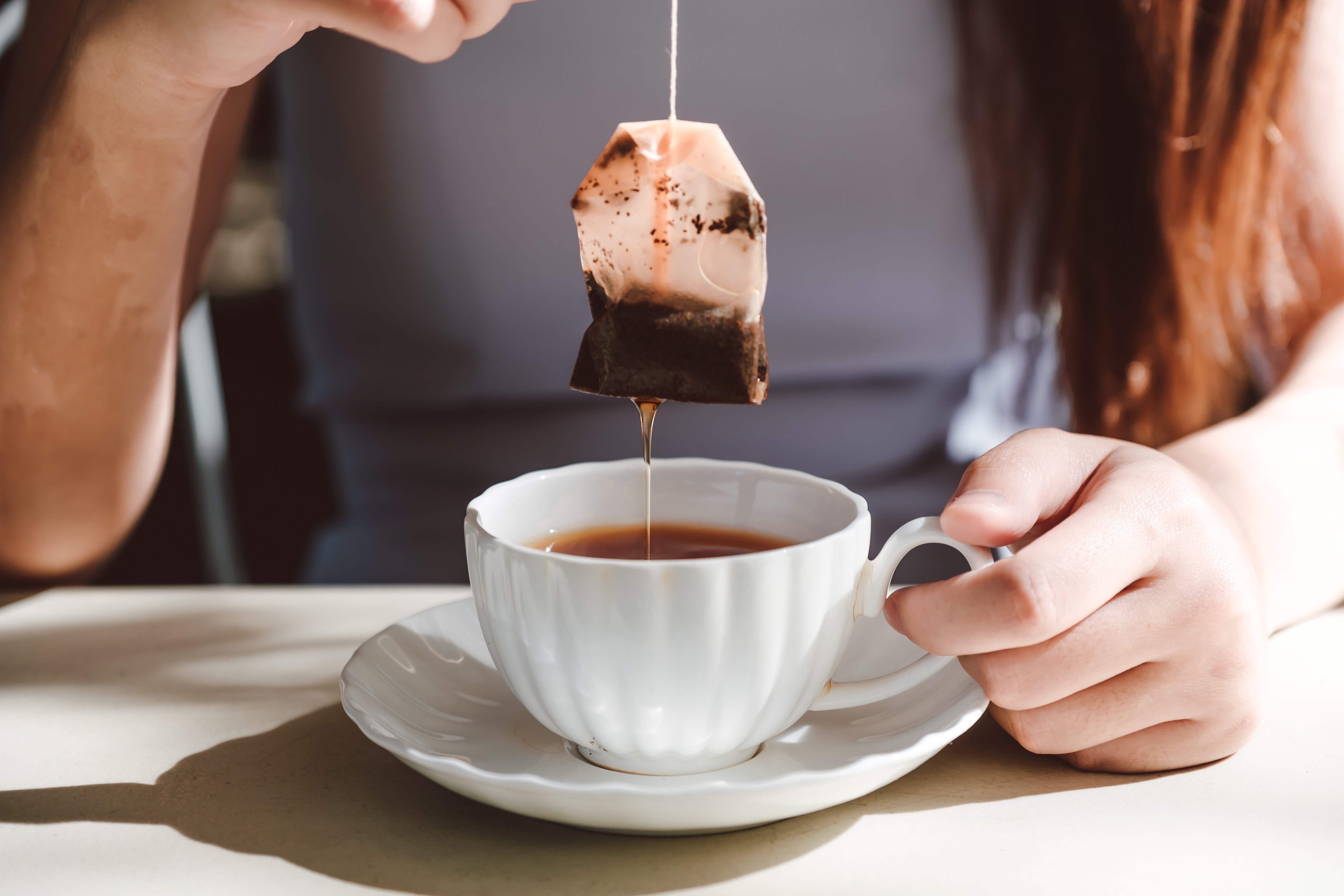 Beyond the taste and health advantages, brewing tea from loose leaves is also better for the environment! Often, teabags contain a small amount of plastic as manufacturers aim to enhance the durability of tea bags in hot water. When seeping our teabags, these micro plastics get broken down where we end up consuming them. Over long periods of time, this may result in many health issues. With its plastic contents, teabags also cannot decompose completely – just like plastic bags or plastic utensils – which makes them harmful to the environment.
So how can we make our own homemade tea blends? Here are three simple steps for you to do so, which can be easily customised to your personal nutrition goals and flavour liking. To ensure a well-balanced tea profile, each herb is measured in teaspoon proportions and can be brewed for 2-3 cups of tea.
Step 1 – Choose your blend bases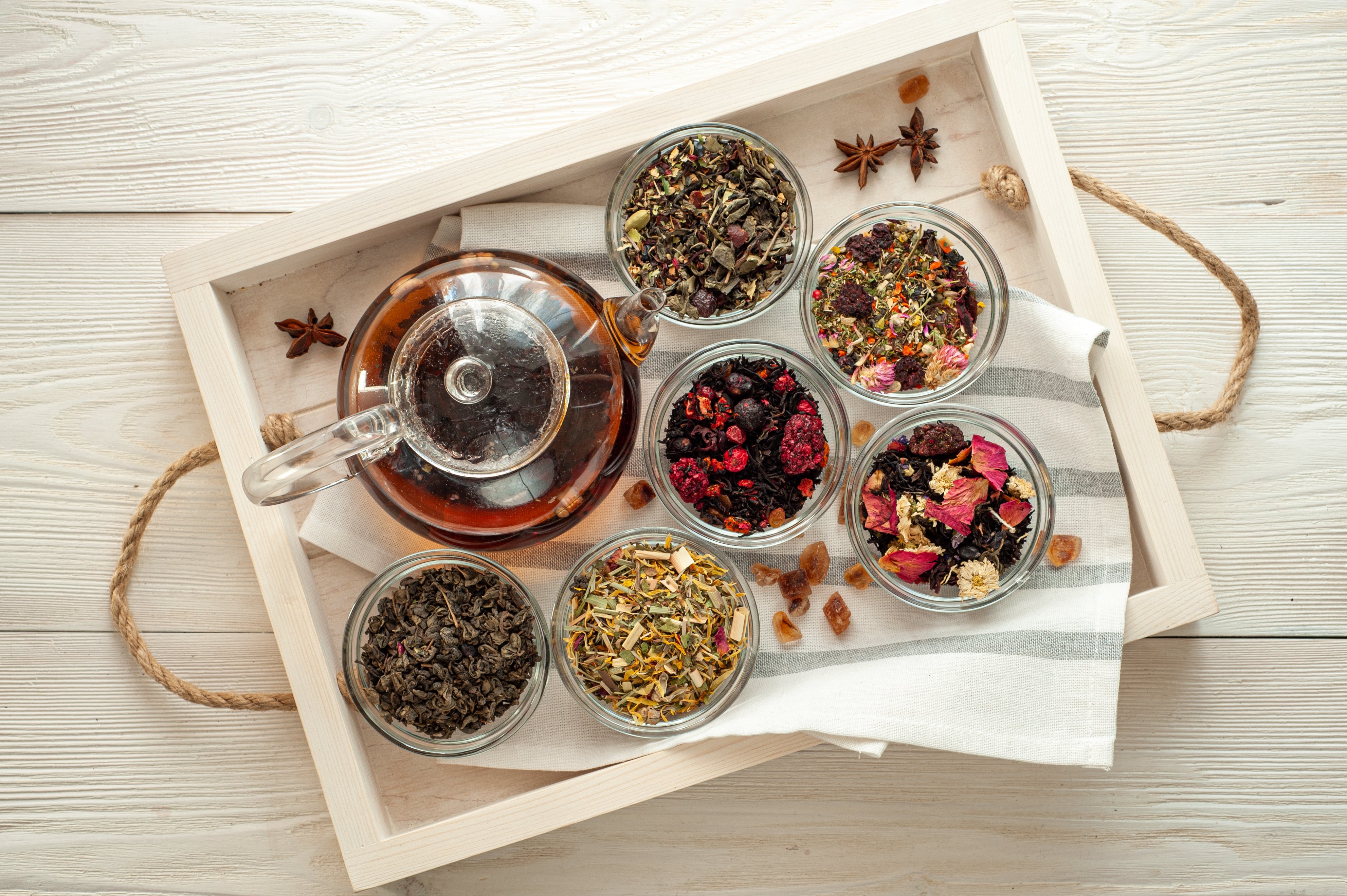 To begin, start off by identifying the purpose of your tea blend.
Are you looking to craft a blend that gives you a midday brain boost or to serve as a soothing end to your day? For those of us who experience bloating after a heavy meal, certain teas can also aid our digestion and help our bodies metabolise our food to reduce the discomfort.
Once we've identified the purpose of our tea, it's time to choose the base herb! Some of the more commonly used base herbs include chamomile, which is known for its calming quality, peppermint that promotes alertness, and rosemary, which helps in improving our cognitive function. As this blend base builds the foundation of your tea, include 3 teaspoons for sufficient flavour.
Step 2 – Identify your complementary herb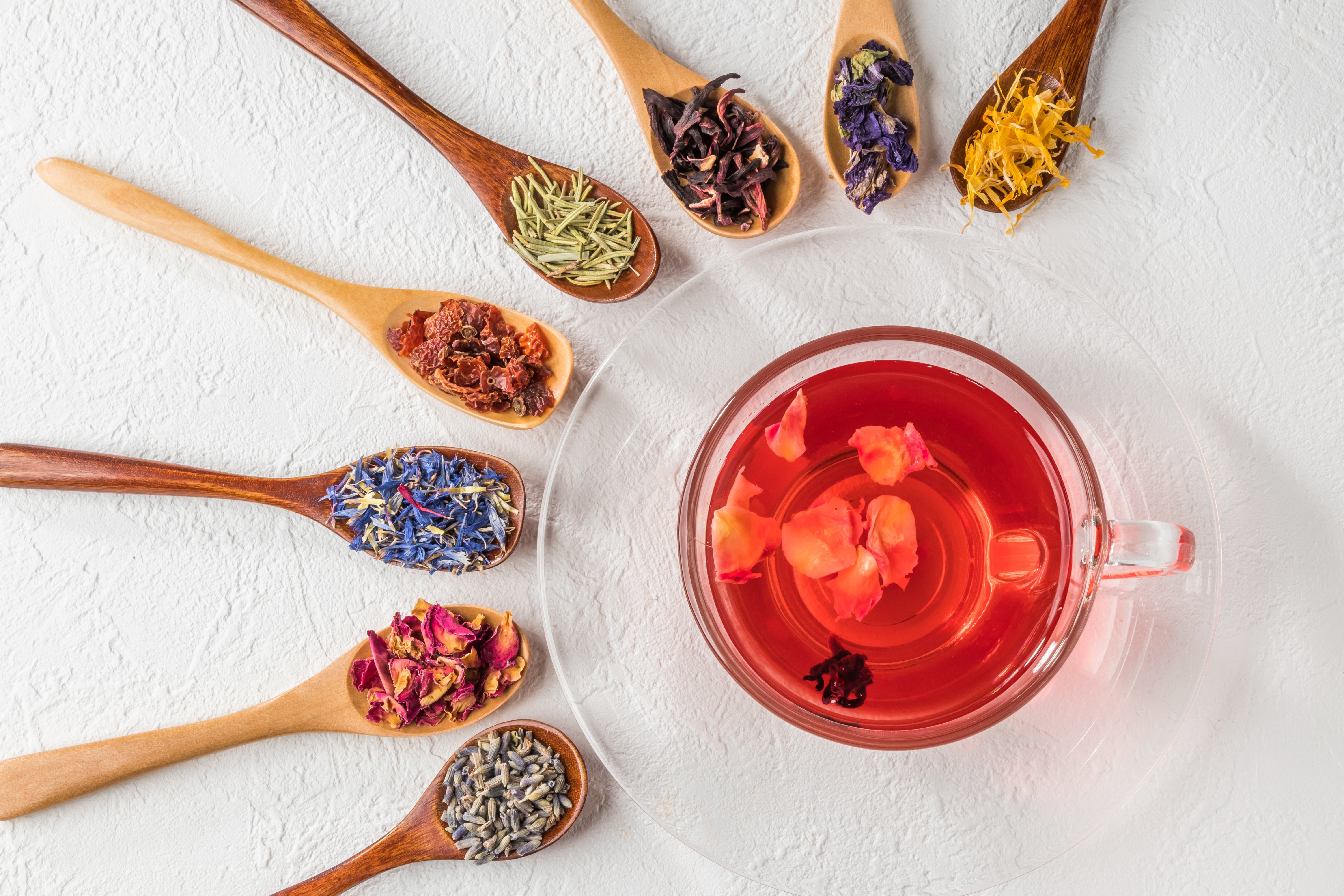 Next, you'll need to choose your second-most dominant herb in your tea recipe. Depending on your blend's base, this complementary herb can either help tone down the intensity of the main tea base or enhance its flavour and add to its profile complexity.
For our health junkies looking to make the most out of each cup of tea, you can also choose a complementary herb that offers additional health benefits! While there are no limits to which herbs to use as a complementary option, some of the more common choices are floral notes such as lavender, rosemary and elderberry. A few examples of this would be common favourites such as Jasmine Green Tea or Osmanthus White Tea. For this, add in 1 to 2 teaspoons into your tea blend.
Step 3 – Finish off with an accent herb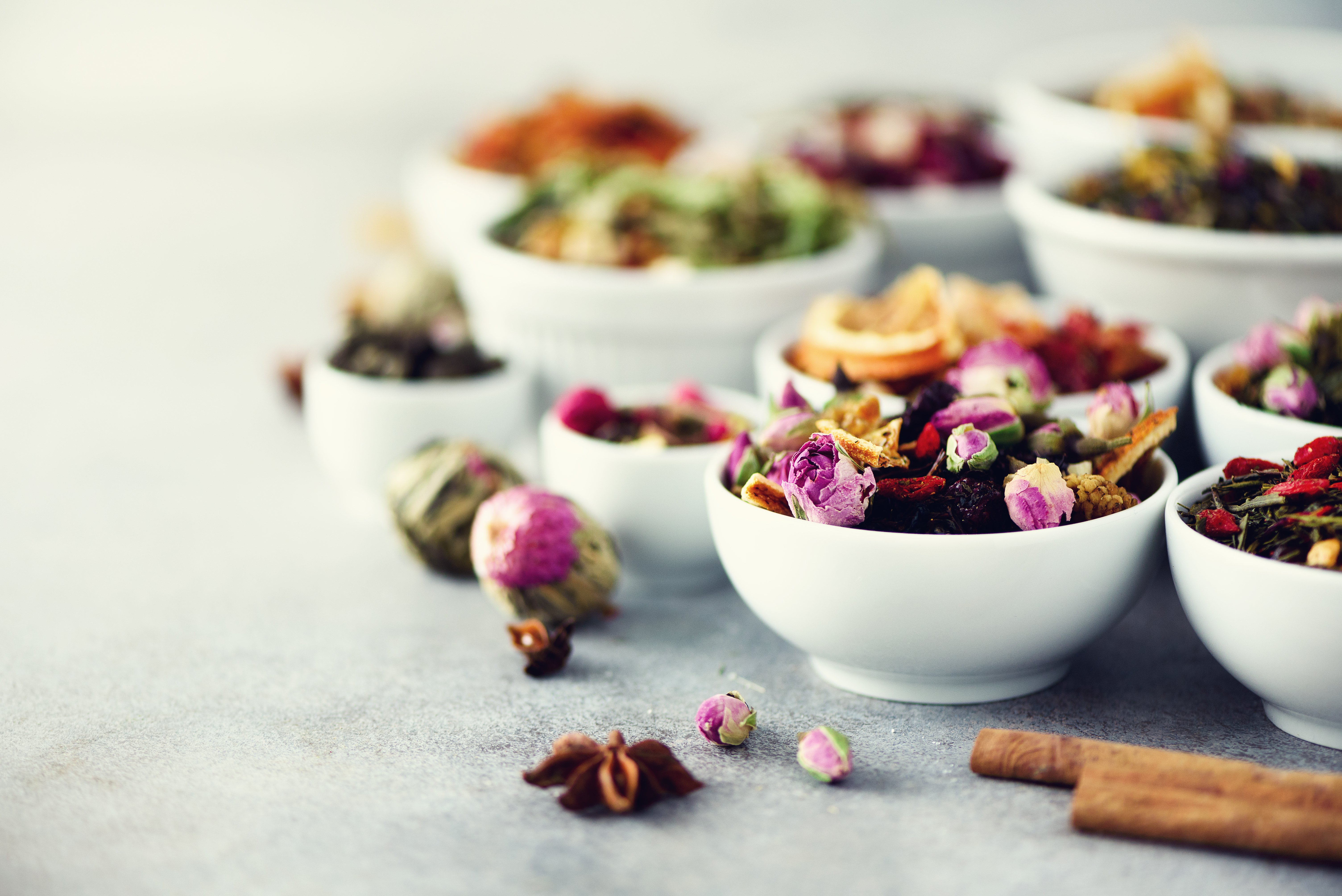 Finally, to round out the tasting notes of the first two ingredients, choose an herb that offers that delightful pop of flavour. Again, there are no boundaries as to which herbs you can use. You may choose either one of the aforementioned herbs, or even pick a personal favourite spice like nutmeg or cinnamon. For those who enjoy floral teas, wild rosebuds work perfectly for that delicious aftertaste.
For this accent herb, mix in just ½ to 1 teaspoon so that it does not overpower the overall tea flavour.
And there you have it! Your very own tea blend made for any occasion. As with any DIY, this is very much a trial-and-error process, and we encourage you not to be disheartened if you do not nail the yummiest blend on your first try – it's perfectly normal!
If you're looking for some tried-and-tested recipes as a first step, feel free to check out some delicious blends here! However, if you're one of the more adventurous amongst us who'd prefer to experiment, here's a tea blending template that we hope will help you along your DIY tea blending journey.
As we #PowerTheChange one cup of tea at a time, check out the range of herbs and loose tea leaves available at Unpackt, one of Singapore's zero-waste grocery stores! Reduce unnecessary plastic packaging by bringing along your own reusable containers, such as airtight glass jars, to store the ingredients you need and keep them fresher for longer periods of time!
You can also spread the #JollyGreen spirit by making your own tea blends for your loved ones which not only serves as a great conversation starter to encourage them to go green for our environment, they are also thoughtful gifts to nudge them on a health-boosting tea journey!
By Geneco
23 November 2021