The conversation on climate change has been more prevalent over the years. It's heartwarming to see more individuals and communities taking positive steps for our planet, and we hope you can come onboard with us on this green lifestyle journey.

To ease you into adopting a more sustainable way of living, we spotlight some of our homegrown eco-advocates who seek to guide you towards a greener tomorrow. Each of them has taken great strides in spreading awareness for a more eco-friendly way of life. From early environmental education for children and a climate focused discussion platform for youth to recyclable initiatives for adults - there is something for everyone.

Let's find out more about some of the programmes and activities from these groups that can help empower you and your family to take a more proactive role towards a greener nation!


1. Join green activities organised by eco-advocates
Spark your appreciation for our natural biodiversity with Cicada Tree Eco-Place, a non-profit, non-governmental organisation, which was co-founded in 2006 by a group of five Singaporeans. Supported by volunteer educators, conservationists, environmentalists, eco-artists and wildlife activists, the group was formed in an urgent response to the climate change crisis and its impact on wildlife and humans.

Cicada Tree pushes for climate action through their three-pillar mission: Providing affordable and quality environmental education for all; conserving and protecting Singapore's natural heritage by raising awareness of both local and regional flora and fauna; and encouraging individuals and organisations to adopt an eco-lifestyle.
You can also take an active role and join in Cicada Tree's wide variety of outreach activities, including nature walks, workshops, camps, and experiential learning in the outdoors.

If you want to get more involved in their cause, check out Cicada Tree's calendar for upcoming charities, fundraisers, and seminars that you can participate in!

2. Lend an active voice to climate change policies
The Singapore Youth for Climate Change (SYCA) has been leading the conversation to meaningfully engage our youths in the ongoing discussion about environment and climate policies. Co-founded by a group of youths, SYCA's goal is to provide a platform for Singaporean youths to engage in topics related to sustainable development and various climate awareness initiatives.

At present, SYCA represents Singapore in the United Nations Climate Change Conference, Conference of Parties (COP) to work with other nations on how to keep the earth healthy. In the local sphere, the group also works with schools to teach our future generations how to live sustainably to protect and preserve a greener tomorrow.

You can be part of the active conversation by joining SYCA. They are running a five-part workshop called "Keeping Up With Climate Policy" which opens the floor for you to pinpoint specific areas for our nation to further advance our climate policies — and you can join in for their second instalment! SYCA also welcomes volunteers to help plan or lead some of the environmental projects.
If you have the passion to drive some of these environmental initiatives, get in touch with them on Telegram or follow them on Instagram @syclimateaction to receive regular updates.

3. Impart eco-friendly knowledge to the next generation
The first step to establishing a more conscious eco-friendly lifestyle is always easier when you start from young.
Earth School focuses exclusively on environmental education for the young and pre-teens. Run by a team of passionate youth environmentalists who believe in the power of environmental education to create change for our future, the school brings together our local environmental community from eco-organisations to fellow environmentalists to share their knowledge and expertise to motivate and ease the younger generation into environmentally-conscious individuals.
If you're looking for a versatile classroom environment that can break down complex environmental issues into digestible, hands-on lessons for your children, Earth School has you and your kids covered. Enrol your young ones to be part of the solution and help equip future generations with the knowledge needed to reduce climate change.
You can also check in on their event calendar to find environmental exhibitions and films like Waves of Change at the Singapore ArtScience Museum, or give back to the community in voluntary initiatives like their beach cleanups.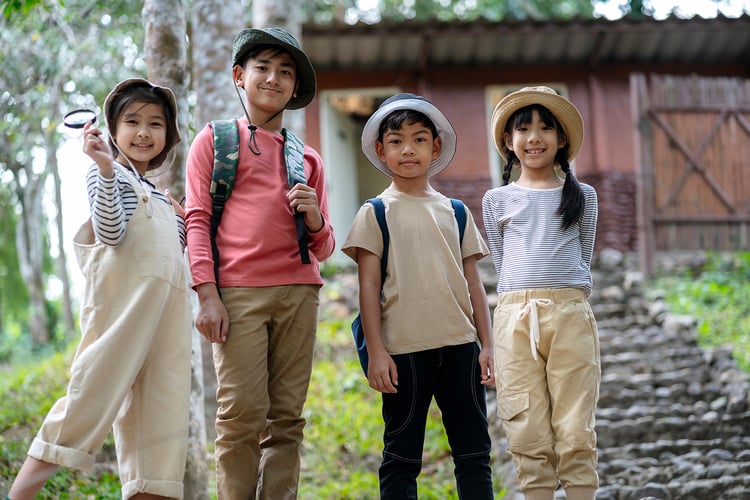 4. Reduce your carbon footprint with less plastic
Take a moment to think of how much plastic we use each day; every form of disposable packaging we have ever used when we opened or bought something new. Making the active decision to turn away from environmentally damaging plastic is the behaviour that Plastic-Lite wants to help you encourage such as bringing your own tingkat containers for your lunches, or shopping for groceries with your own tote bag.

Plastic-Lite is a grassroots volunteer community that was formed in 2016 to inspire Singaporeans to cut down on plastics; essentially a Plastic-Lite lifestyle.

They educate the community on many fronts including visiting eateries and supermarkets to encourage the public to go light on straw usage and reducing plastic bag use. Plastic-Lite also hosts workshops in schools and at corporate seminars to spread the word about sustainability and adopting a plastic-lite lifestyle!

One of Plastic-Lite's most successful initiatives is Bounce Bags, a bag-sharing programme where anyone can donate reusable bags at the kiosk located within Our Tampines Hub, B1 outside NTUC Fairprice or Heartbeat@Bedok.

Alternatively, you can also visit their website, "Let's Talk Climate" to learn more about environmental issues happening worldwide.
Singapore's efforts against climate change
As we all might know, Singapore has been continuously taking steps to contribute to climate action. The OneMillionTrees Movement by NParks is a key initiative to achieve our Singapore Green Plan 2030 and Geneco has been supporting the movement by being part of the Garden City Fund's Plant-A-Tree programme with the commitment of planting 250 trees over 5 years since 2021.

This World Ozone Day, also known as the International Day for the Preservation of the Ozone Layer on 16 September, we planted an additional 150 trees in Pasir Ris Park to celebrate the announcement on Geneco being Singapore's Number 1 Residential Electricity Retailer.

Now, let's put your knowledge to the test in our Geneco Facebook or Instagram contest now and you could be one of the 10 lucky winners to walk away with a $50 FairPrice e-voucher and an exclusive Geneco Green Starter Kit!

Simply comment with your answer to this question on either of the social media platforms: Name one of the local organisations mentioned in our blog that can empower you in the journey against climate change.

You too, can be part of the climate change solution by taking part in the initiatives we have mentioned in the blog.

Let's continue to #PowerTheChange and take steps to tackle climate change for a greener future.
By Geneco
19 September 2022