Working from home may be a semi-permanent fixture for most of us now having stayed at home for a good majority of the year. Having a dedicated workstation is thus important since it can do wonders in ensuring we stay on track with our work while at home. A sustainable home office is a great example of how easy we can merge zero-waste and daily work together as we carve out that personal workspace. Not limited to just being beneficial to our health and well-being, it further ensures we are doing our part in advocating for a more sustainable lifestyle choice.
Here are some tips to help you in creating a sustainable green home office.
1. Cut off energy vampires
Your electronic devices such as your laptops, computers, and speakers, are using up energy even when not in use. When not turned off entirely or left to run on standby mode, these items are slowly draining energy in the background by responding to commands or performing updates even when not actively engaged by a user, and can suck up large amounts of electricity.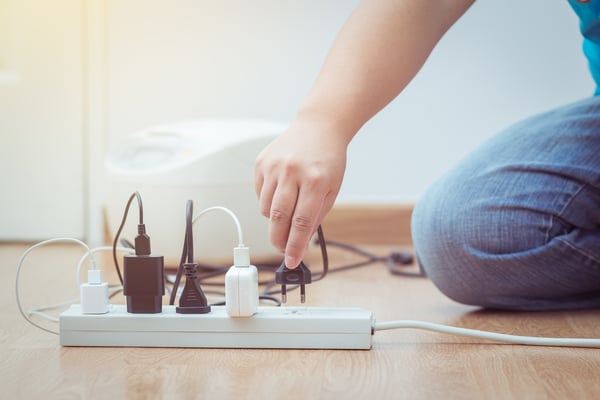 To prevent wasting your electricity usage, unplug your devices at the end of the workday. This way you not only do good for the earth but for your pocket as well.
2. Office plants
Bring the great outdoors inside! Another way to make your home office green is to fill your space with houseplants. They are easy on the eyes and a brilliant way to improve your air quality thanks to their ability to purify the air.
Some plants like orchids and succulents even continue emitting oxygen at night, making it safe to house them indoors[1]. Having indoor plants in your room can even help to reduce stress and create a peaceful environment, which can benefit your productivity and mental well-being as well.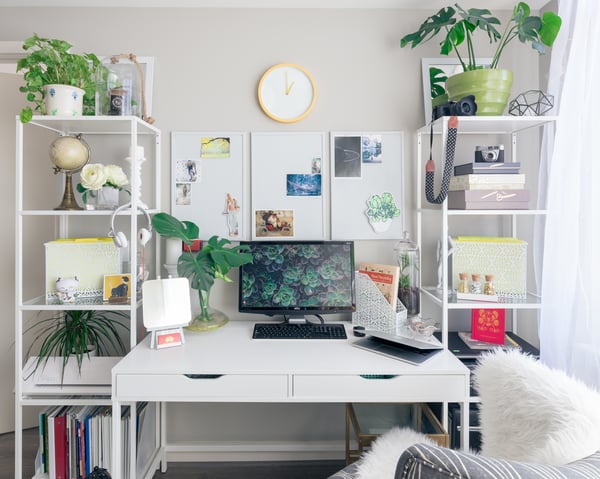 Worried that you may not have any green fingers? There are plenty of low maintenance plants that require little care which are perfect for beginners or people with busy schedules. Some of them include the English Ivy, Snake Plant or even our local favourite, the Money Plant.
3. Go digital
A total of 1,011,000 tonnes of paper waste was disposed by Singaporeans in 2019[2]. This is the third largest amount of waste generated among the various types of waste generated in the country.
With the advent of technology, keeping things digital and going green in the office has become accessible and easy. Use your electronic devices for most of your transactions like online billing, invoicing and payments. It can also be as easy as filing work documents digitally on electronics instead of having physical folders, or reviewing them on-screen rather than printing out. If you must use paper in the office, consider if it is possible to reuse misprints to reduce the need for a fresh sheet.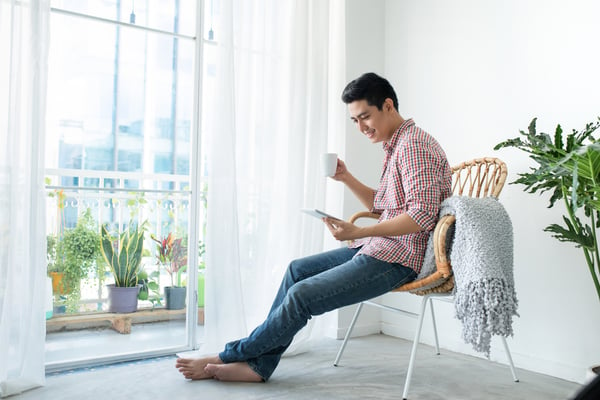 One of the ways Geneco is doing their part for environment is to only issue e-bills and have gone paperless since its inception. This helps reduce the unnecessary carbon footprint incurred from paper bills and postage mailing. A small move to phase out physical bills is a huge step towards a better world. We even have a guide to help you understand your Geneco e-bills to ensure a hassle free process!
4. Skip single-use stationery
Whenever you run out of pen ink or are looking for stapler refills, the first thought will usually be to head for the supplies closet to retrieve a new batch of stationery. Instead of being dependent on these disposable office supplies, choose to reuse and opt for sustainable options.
Choose refillable pens or staple-less staplers to reduce your consumption and the amount of waste generated. You will be even surprised to know that there are plantable pencils in the market that are designed to be planted once they are of unusable length. To complete building your own eco-friendly home office, you could even try to adopt a plastic-free routine as you go about your daily tasks.
5. Make the most of natural light
Selecting a workspace that has a window to allow natural light in is a great way to go green in your home office as well. This way, you save on your energy consumption by minimising the use of unnecessary lighting and get to enjoy the health benefits of Vitamin D which can improve your quality of sleep and productivity levels.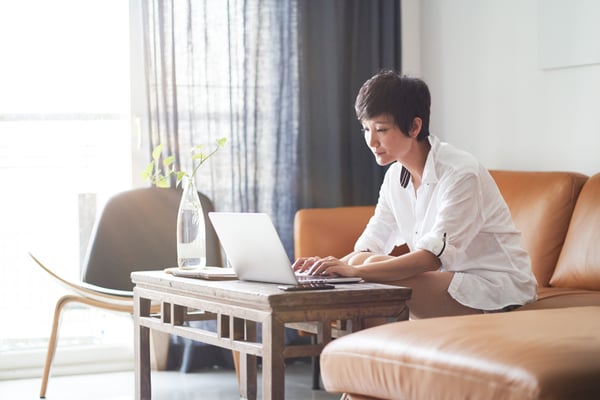 When optimum use of natural lighting is not possible, ensure your workplace is well lit by opting for an energy-efficient LED desk lamp. Not only do they not strain your eyes, they also consume 80 per cent less electricity and have longer lifespan than halogen bulbs[3].
Going green has never been easier, especially at work. It is a great way to keep individuals happy, healthy, and productive at the same time. Transform your home office into a green one today or challenge your colleagues to adopt sustainable practices for their own home office. You could even take it a step further to going green for your home by checking out Geneco's Get It Green plan! At only 17.45cts/kWh, reducing your carbon footprint is both simple and affordable!

Share your ideas with one another on how to maintain a green office at home and power the change together!
References:
[1] (2018) Orchid Republic. Do Succulents Produce Oxygen? https://orchidrepublic.com/blogs/news/do-succulents-produce-oxygen
[2] (2019) National Environment Agency. Waste Statistics and Overall Recycling https://www.nea.gov.sg/our-services/waste-management/waste-statistics-and-overall-recycling
[3] Ng, H.W. (2018, October 27) The Straits Times. More efficient lamps to light up go-green efforts https://www.straitstimes.com/singapore/more-efficient-lamps-to-light-up-go-green-efforts
By Geneco
29 October 2020