As we make plans to recharge and rejuvenate with our children this June school holidays, why not take the chance to inculcate an eco-friendly mindset amongst our young ones? With the three key environmental dates this month – World Environment Day, World Ocean Day, and World Rainforest Day – June is a special month and a timely reminder for us to protect our Mother Earth.
With the minimal Covid-19 restrictions this mid-year break, check out the abundance of outdoor nature activities available across our sunny island that are great to educate the kids on the importance of our natural environment while promising great fun at the same time! In addition, heading outdoors also provides a range of benefits including improved overall health and wellness and stress reduction while serving as valuable bonding time together with the entire family. What's more, introducing kids to our great outdoors can also help them cultivate an appreciation for nature!
With the many fun things to do, there's no worrying about keeping the kids thoroughly entertained. In today's blog post, we introduce some of the best outdoor family activities to check out for an excitement-filled month:
1.

Discover activities on Seek Sophie
Dive into the myriad of family-friendly activities available on Seek Sophie, a platform that connects individuals with unique experiences run by small local businesses. This June holidays, Seek Sophie has put together an array of adventures that promises great fun for both the young and old, ensuring that you and your little ones can spend precious time bonding.
One of our favourite activities would be the intertidal walk to discover marine biodiversity including hermit crabs, sea cucumbers, swimmer crabs and sand dollars. Have a whale of a time traversing the muddy terrains and getting your feet wet while learning fascinating facts about these amazing creatures! Or, if you'd prefer to take a step further and play your part in conserving the habitat, sign up for the Marine Scientist Day Camp instead, which includes a beach clean-up session. This 4-hour camp also features a squid dissection class – perfect for the curious young minds.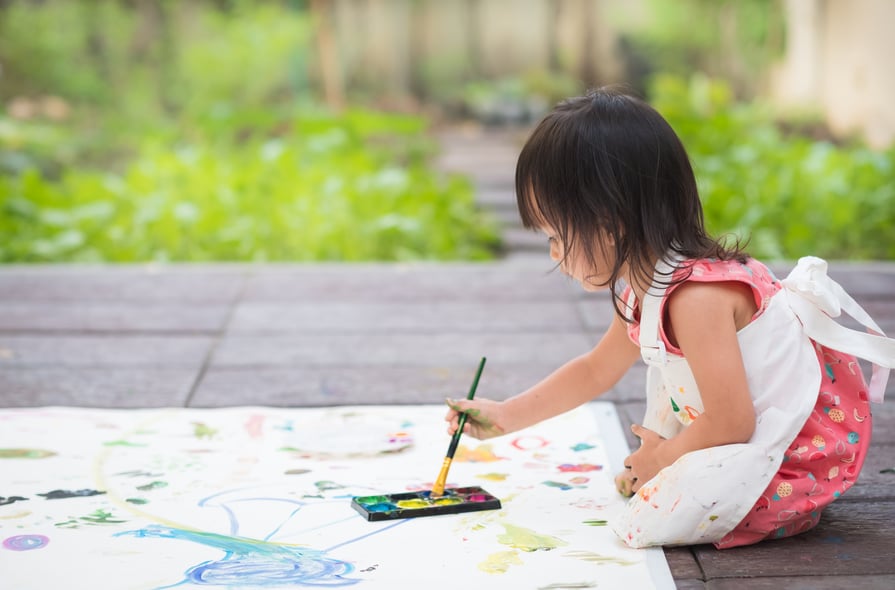 Looking for an activity to burn off your kids' endless energy? Check out this nature-themed playscape for an afternoon of fun! Suitable for kids as young as two years old, this immersive outdoor space is anchored on the four pillars of movement, investigation, creation and bravery, to suit the interests of every child. With activities such as an obstacle course, fishing in a longkang (Chinese dialect for drain) and painting with mud, enjoy limitless possibilities for adventurous play and exploration while educating our young ones on the joys of connecting with the natural world.
The best part about Seek Sophie? The team offsets carbon emissions of all experiences booked on the platform, ensuring that you have carbon-neutral fun! Since 2018, more than a million tonnes of carbon have been offset by the platform, leaving a positive footprint on both the local communities and the environment.
2.
Exploring Singapore's water bodies through kayaking
If you're up for some water sports, check out Singapore Sports Hub's Water Sports Centre where you can rent a kayak and enjoy the city's iconic skyline from the Kallang Basin while soaking in some vitamin D. If you're lucky, you may even spot the family of resident otters who call the area their home!
New to kayaking? Not to worry! Join the Kayak Orientation Programme to get familiar with the activity and even learn some tips and tricks on manoeuvring your kayak. Not forgetting our experienced paddlers, Water Sports Centre also provides Kayak 1 and 2 Star Personal Skill Awards for those looking to get certified in kayaking.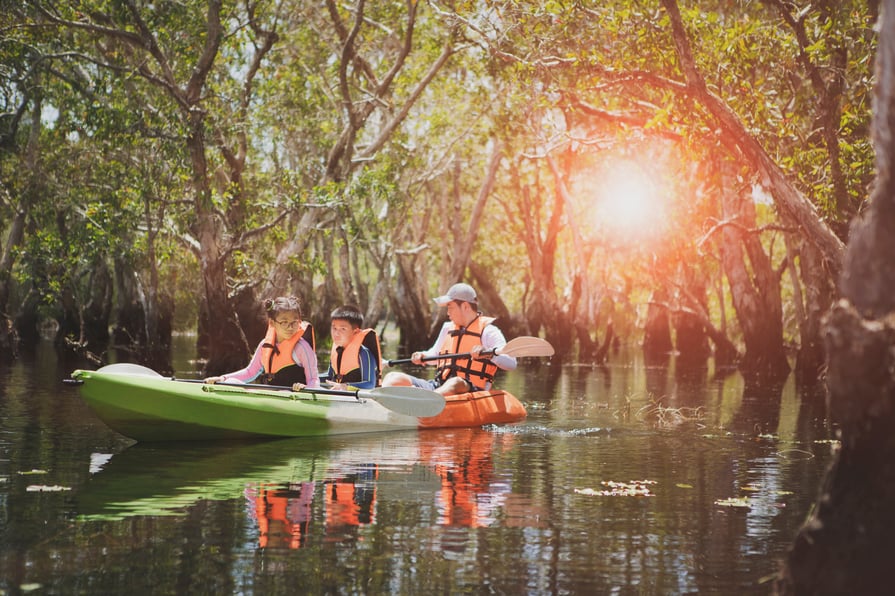 For those who prefer a more rugged experience in nature, check out Lower Seletar Water Sports Centre, which offers kayak rentals. Take an idyllic trip down the peaceful reservoir and immerse yourself in the sights and sounds of nature. You may even catch a sight of the majestic White-bellied sea eagle, Peacock bass or the Collared Kingfisher! There's no better way to experience the best of Singapore's nature. Just note that adult supervision is required for children younger than 13 for a safe experience!
3.
Picking up a new roller blading skill
Take advantage of the many park connectors and smooth terrain in Singapore by lacing up those rollerblades and gliding around our island home. Though Singapore may be small, the lush greenery around us makes it a wonderful natural playground and a haven for people of all ages.
To bring your rollerblading experience to the next level, head out to the various green spaces in Singapore, including Sembawang Park where you can enjoy the sea breeze and tranquil sights along the sea. If you're up to explore the north-eastern area of Singapore, check out the North Eastern Riverine Loop which is a haven for nature enthusiasts. Glide along the 24km-long scenic trail and you may even spot some unique native biodiversity along the way! For the best experience, we'd recommend heading to these parks in the evenings where you can catch the breath-taking sunset while soaking in the best of nature Singapore has to offer.
While this activity requires some practice, what better time than this month-long holiday to pick up a new skill? Many places in Singapore, such as Skateline and SkateXtreme offer lessons suited for various levels .You can be sure that you and your little ones will be roller-blading around independently in no time.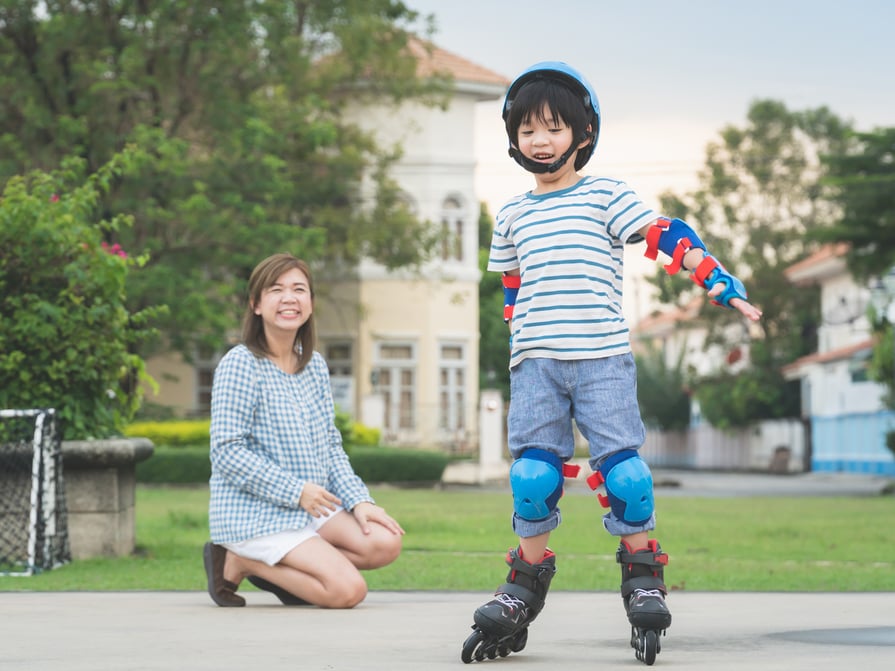 4.
Ziplining down Singapore's largest Treetop Obstacle Course
For an unforgettable day out, check out Forest Adventure – Singapore's largest treetop adventure park at Bedok Reservoir! Immerse yourself in some adrenaline-pumping fun with courses of varying difficulties that are perfect for all ages. From navigating through bridges suspended on skinny logs to swinging mid-air Tarzan-style amidst the foliage, it's promised to be an exhilarating experience for the entire family! Not to worry if you're a first-timer – Forest Adventure is staffed by super friendly instructors who are always ready to offer some tips as you manoeuvre each obstacle.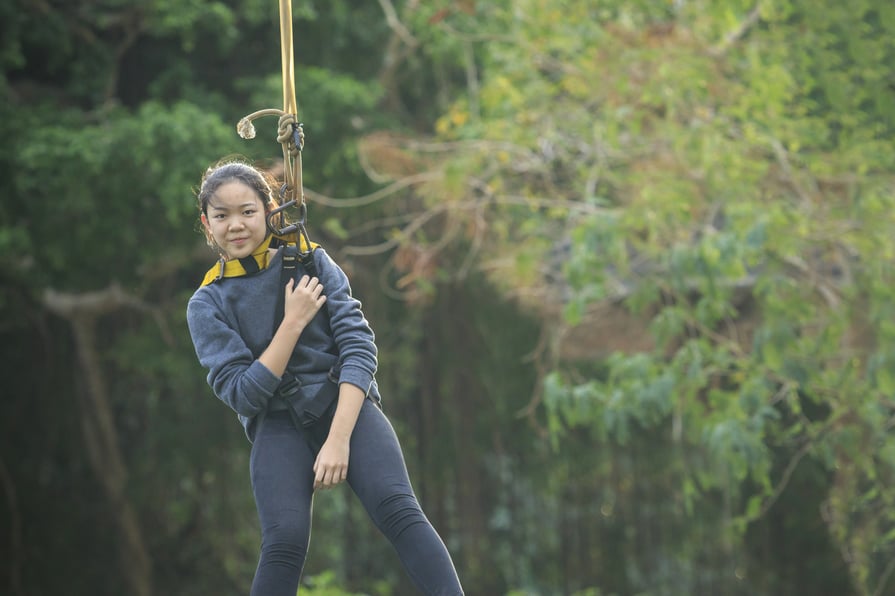 Up there in the tree canopies, you can almost mute out the hustle and bustle of city life and immerse yourself in the calming sounds of nature to enjoy the breath-taking view of the reservoir fully.
And there you have it! Four of our best recommendations as you make plans with your family this June holidays. As we enjoy the great outdoors and bond with our loved ones, let's remember to be mindful and conserve our environment by leaving nothing but footprints at each location.
Together, we can #PowerTheChange for a greener tomorrow!