Each year on May 15, we celebrate International Day of Families by appreciating the importance of families around the world. This year, a different set of circumstances has presented abrupt changes in our day-to-day routines for many of us, as we observe safe-distancing measures.
However, this also provides a great opportunity for family bonding as we spend more time with each other. In between juggling the "new-norm" of working from home with new household demands, we may in fact be spending less quality time with our families than we expect.
Therefore, let's make this a special day by creating conscious efforts to continuously support and care for each other. Here are four tips to help you keep family a priority:
Regular morning check-ins
It isn't always easy for parents to work from home. Children may require plenty of attention from their parents during working hours. Some may even feel neglected due to the lack of attention despite their parents being home all the time.
Therefore, try to explain the situation with your children. Start the day by having a chat with them to explain your work schedule. This way, you can continue your day with the assurance that your child understands the time limitations imposed upon you by work commitments.
To complement this, draw up a structured timetable for the kids to follow. Should they need your help with schoolwork along the way, set aside some time within both your schedules to address them. Letting them understand your work schedule whilst demarcating your out-of-bound hours should help set the boundaries for you to get work done as well.
You can even make your own timetable at home this weekend simply by reusing materials around the house and embark on a green craft as a family.

Set reminders for important dates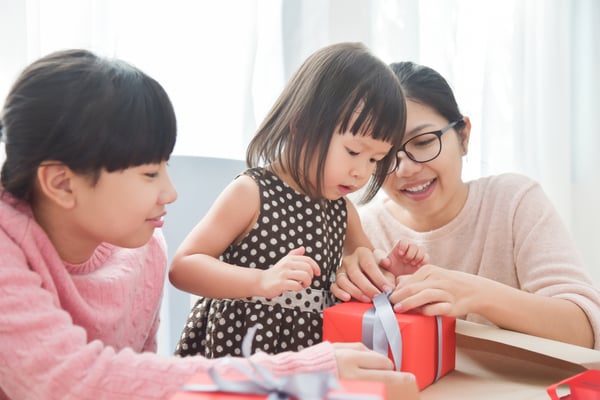 It's easy to lose track of dates and forget important occasions such as anniversaries and birthdays when you have been staying indoors for an extended period. Set reminders on your calendars, bookmark these special days and make plans to show your loved ones the care and concern they deserve. After all, nobody enjoys being forgotten and neglected, especially during this stay-home season.
To celebrate these occasions at home, consider holding an indoor themed party for the family or whip up their favourite dishes as part of their birthday meal!
For extended relatives and family members you may live apart from, surprise them with their favourite meals using food deliveries for a simple yet effective way to show them how important they are to you. Just remember to be sustainable by picking the "no plastic cutleries" option whilst ordering!
No work on the dinner table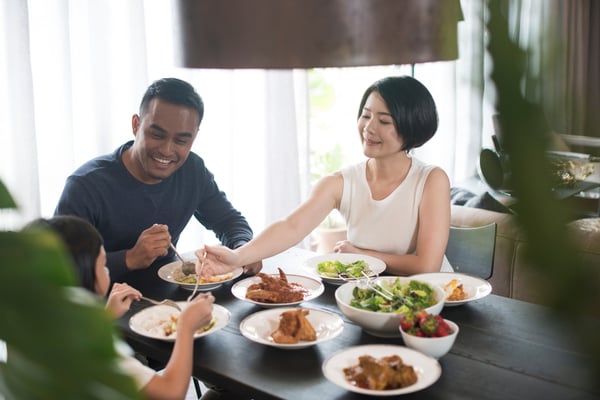 As your workload increases, you may find yourself too busy to enjoy mealtimes with the family. Consider taking a step back to savour and focus on these moments that most of us tend to take for granted. As such, set aside a little time to connect with each other will no doubt go a long way to strengthen ties between family members.
You can plan for special dinners over the weekend, and get the whole family involved in the meal preparations. Add a finishing touch to your dishes with homegrown herbs, such as basil or mint, from your very own food scrap garden, making the meal extra meaningful and delicious!
Try something new together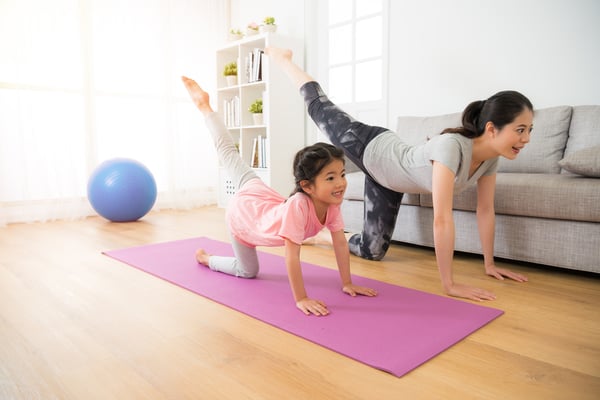 Staying at home also makes for an excellent opportunity for families to attempt new activities together, such as trying new workouts that you previously didn't have time for. Not only will this help you stay active and fit, you'll get to spend quality time with your nearest and dearest. From yoga and pilates to intense cardio sessions, there is an abundance of workouts online for families to choose from.
If fitness isn't your thing, consider other activities such as watching a movie you have been putting off or picking up new creative skills like painting as a family. You can upcycle items around the house and work on a green craft to keep the kids entertained. Activities that you can embark on include crafting your own indoor playground or making building your own grocery store using cardboard boxes. Such shared experiences create opportunities for bonding, while offering an element of fun to life during this stay home period.
We understand navigating new routines and working around changes during such times may not be the easiest, but we believe this period also offers valuable lessons and reminders of what's important in life. After all, families are the most basic unit of society. Cherishing every moment with yours should be a priority, especially in times of uncertainty when you'll need each other to weather the storm.
From our families to yours, Happy International Day of Families!