The average monthly household electricity consumption of a 4-room public housing unit was 372.9 kWh in 2017 (statistics: Energy Market Authority) While the consumption is lower than that of the same 4-room HDB unit in 2015 at 387 kWh, there are many ways you can save big on your energy costs while helping the environment at the same time. Here at Geneco, we share 3 tips to cut back your energy use and reduce your bills.
Tip #1: Changing out your light bulb
Did You Know?
LED bulbs use up to 85% less electricity than incandescent light bulbs to produce the same amount of light, and can last about 20 times longer.
With the adoption of energy-saving applicances such as LED light bulbs by almost every major applicances brand, it may sometimes be easy to overlook the From 2023, all light bulbs sold in Singapore are likely to be as energy efficient as a light emitting diode (LED) bulb. However, buying a simple light bulb is not so simple anymore. As technology has advanced and environmental awareness has increased, energy efficiency has become a big factor for consumers. Choose energy efficient lamps such as LED bulbs over incandescent or halogen lights. Using a 42W incandescent light bulb instead of a 7W LED bulb can save your over $100 per bulb per year*. (image and information source: Straits Time)
Tip #2: Consider the needs of your family and get the appropriate sized fridge
Do you really need such a big refrigerator? Consider this before you make the decision on which refrigerator to buy. When buying a refrigerator, energy efficiency is achieved best when considering freezer placement.
Do you know?
The most energy efficient refrigerator style is a top-mount freezer refrigerator as it uses 10-30% less energy than the same models of side-by-side refrigerators.
Choosing the smallest model refrigerator that meets your needs would save you much more in the long run. Also, leave at least a 1-inch clearance around the unit for adequate airflow.
Before you purchase the fridge, question whether additional features, such as automatic icemakers and through-the-door dispensers are needed as they increase energy use.
Tip #3: Changing your air conditioner
Choose the right cooling capacity is paramount in buying air-conditioners. Oversized air-conditioners would result in wastage of electricity when running it. Likewise, an undersized air-conditioner would be overworked, leading in inefficiency. From 1 January 2008, household air-conditioners and refrigerators that are sold in Singapore must be affixed with an Energy Label under the Environmental Protection and Management Act.
Do you know?
Look out for the energy-saving setting in your air-conditioners. This means once once your room has cooled off, the unit will turn off not only the compressor but also the fan thus conserving energy.
Air-conditioners with more ticks on the energy label are more energy efficient. A 2-tick model will cost you about $270 more in electricity bills a year* as compared to using a 5-tick air-conditioner. You can view the list of air-conditioner models and their energy efficiency ratings at www.nea.gov.sg/els
Here's a bonus tip!
Keep your household electricity bill low consistently by switching over to Geneco for immediate savings.
In 2017, Energy Market Authority (EMA) rolled out The Open Electricity Market that allows you to enjoy more choices and flexibility when buying electricity. This translates to immediate savings against the regulated tariff. i.e. 25.52 cents per kWh effective from 1 Jan – 31 Mar 2019 (incl. GST), and managing your household finances lower. Visit https://www.geneco.sg/open-electricity-market/ to find out your eligibility.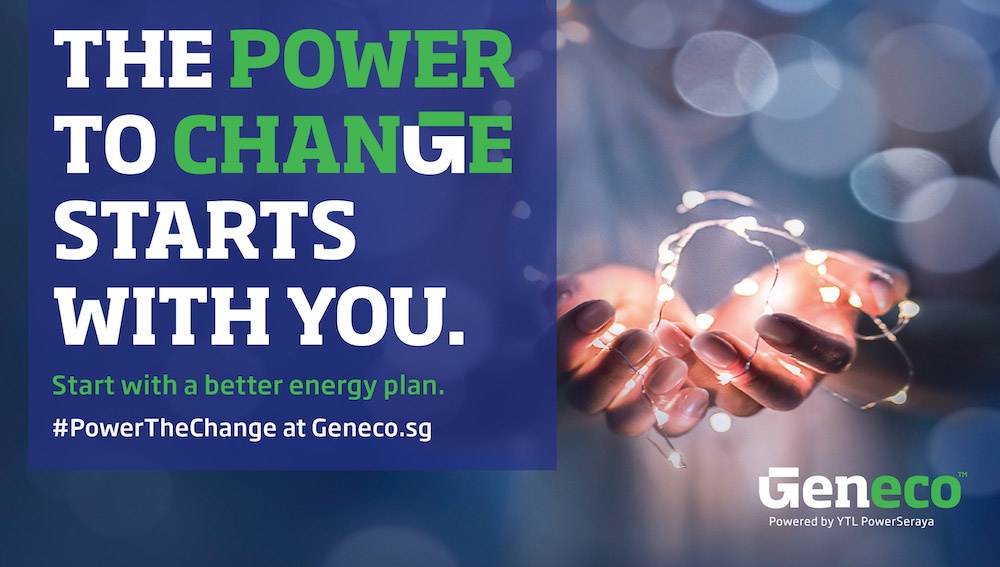 You have the power to make a change with Geneco, a top electricity retailer with 48 years of experience.
Geneco is one of Singapore's top electricity retailer in the Open Electricity Market, belonging to a global network of energy and utility companies known as YTL Power International, which is a subsidiary of the YTL Group. Geneco's parent company YTL PowerSeraya is also one of Singapore's first and largest electricity generators, with a licensed generating capacity of 3,100 MW.By switching over to Geneco, you will be able to enjoy savings of over 30% off your electricity bills, measured against the regulated tariff. Look for our most savings plan, Get It Fixed 36 at a fixed rate of 17.98¢ per kWh, (as of 1 July 2019) or with our Get Free Sundays plan, never worry about paying for electricity on Sunday again. With over 48 years of experience in the energy business, you could say that we know a thing or two about power.
By Geneco
10 January 2019