As one of the greenest cities in the world, Singapore is often known as the "Garden City" – a unique urban city with plenty of greenery from shores to streets.

Much of this commitment to developing green spaces stemmed from the famous Garden City Movement – the brainchild of Singapore's late founding father Mr. Lee Kuan Yew during the early days of independence.

How did Singapore grew to become the lush urban city it is today? Here are 3 lesser-known facts behind Singapore's Garden City movement that you may not have known:
Fact #1 – The roots of the Garden City Vision can be traced back to pre-independence
While many may have thought that Singapore's Garden City initiative started during the post-independence nation-building days, did you know that in fact, it started two years before independence in 1963? Mr. Lee Kuan Yew, the then-Prime Minister of Singapore, launched the first Tree-Planting campaign in Clementi and even planted the first tree himself – a Pink Mempat, known for its beautiful cherry blossom-like flowers. Anchored by the belief that an "urban jungle of concrete destroys the human spirit", he set out with the mission to fill the country with an abundance of greenery to lift the spirits of Singaporeans.
Post-independence, Mr. Lee then unveiled the Garden City Vision in 1967 to continue Singapore's transformation into an island of lush greenery. The initial phase was characterised by an active tree-planting programme, with the number of trees increasing from 158,600 in 1974 to 1.4 million in 2014.
On top of these efforts, Mr. Lee also introduced an annual Tree Planting Day on the first Sunday of every November to continuously beautify Singapore and maintain the green spaces of our cityscape. This practice has continued to endure to this very day and has even been expanded by our National Parks Board (NParks) as one of the key initiatives in the Singapore Green Plan 2030, the OneMillionTrees Movement, which aims to plant one million trees across the island by 2030.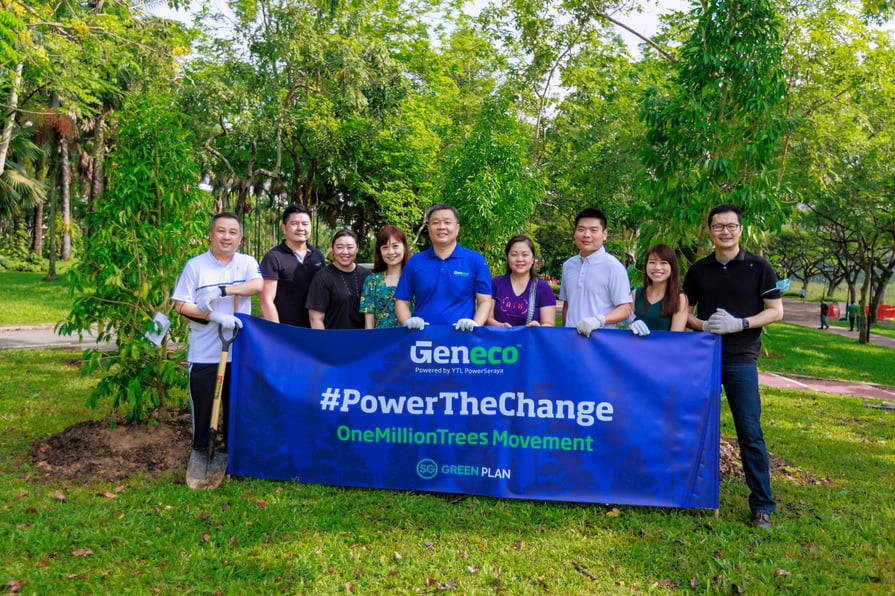 Geneco is proud to be part of NParks' OneMillionTrees Movement, with our commitment to plant 250 trees over five years. This year, we are also pledging to plant an additional 150 trees on World Ozone Day (16 September) as part of our Geneco x Garden City Fund fundraising initiative on Giving.sg. Join us as we raise funds for this movement, and we will be matching your contribution dollar-for-dollar with 100% of the money raised to go towards this initiative!
Fact #2 – Growing the green spaces around us meant building more than 300 parks!
In the 1970s, Singapore sought to expand our green spaces beyond planting trees around our infrastructure. An additional focus was added to the Garden City Movement and includes cleaning up our streets and developing parks to allow Singaporeans to get in touch with nature or simply spend time in nature with their family.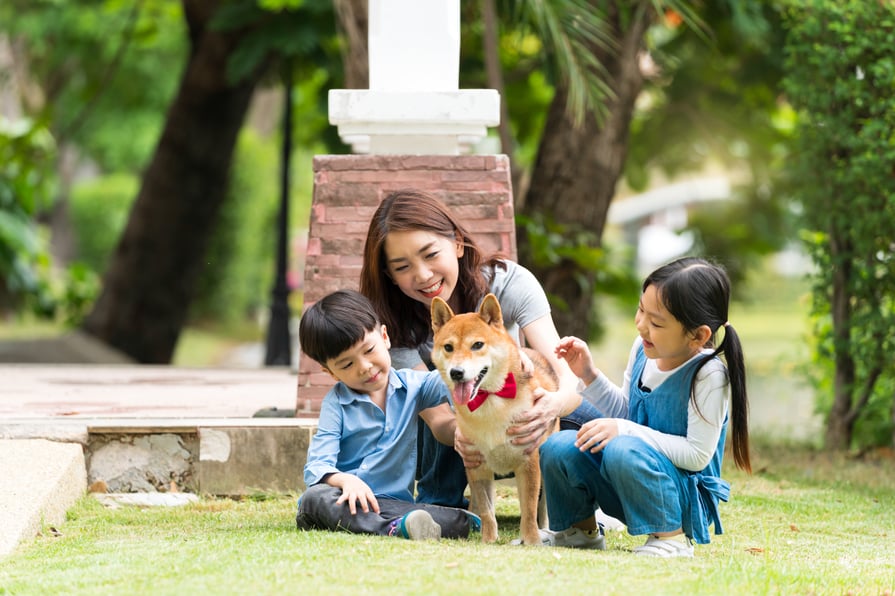 Besides serving as recreational spaces, these parks were also the "green lungs" nestled amongst our city environment, providing clean, fresh air for everyone. From 1975 to 2014, the number of parks in Singapore increased from 13 to 330, greatly expanding the green spaces around our homes and workplaces. As Singapore grew the green spaces around existing infrastructure, green corridors and park connectors were also developed, linking the various parks to form continuous green spaces.
In addition, nature reserves were set up to serve as safe havens for flora and fauna while allowing Singaporeans to enjoy our rich natural heritage. In recent years, the return of otters to our waters and exotic migratory birds are a testament to how far we have come as a city living in harmony with nature.
With the announcement of the Singapore Green Plan 2030, one of the key focus is to continue to nurture a City in Nature. This includes doubling the annual tree planting rate and adding 1000 hectares of green spaces by 2035, which will contribute significantly to creating a green, liveable and sustainable home for Singaporeans.
Fact #3 – We started growing our green spaces up since 2008
Because of land scarcity and an increasing population, there were challenges to continue growing the green spaces through parks and trees on the ground. Singapore decided that the solution was to look up! With a notable shift towards biophilia, our city began to incorporate sky-rise greenery into the design of our buildings.
In 2008, Green Buildings were made mandatory where all new developments must include flora, in the form of green roofs, cascading gardens, and verdant walls. The Pinnacle@Duxton, the tallest public housing development in the world, connects all seven 50-storey buildings with gardens on the 26th and 50th floors, allowing residents to draw close to nature even when high above the ground.
Our iconic supertrees at Gardens by the Bay also demonstrate the synergy between technology and nature. 18 supertrees varying from 25 to 50 meters in height act as cooling ducts for nearby conservatories, and collect rainwater. 11 of them also have solar photovoltaic systems to convert sunlight into energy.
Another example of this synergy is the CapitaSpring - one of the tallest buildings in the Central Business District (CBD) in Singapore. Standing at 51-storey high and 280 metres tall, this visually striking biophilic skyscraper is home to more than 80,000 plants from over 130 species, of which, more than 63 per cent are native plants. Best of all, the public can access these green features, including the Green Oasis, a mid-air botanical promenade, which spirals from Levels 17 to 20 and is home to over 38,000 plants from 70 species.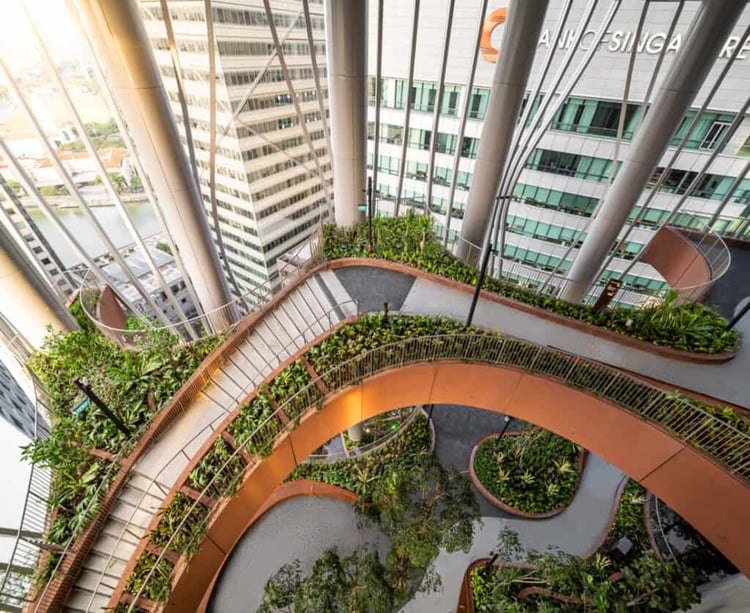 Source: https://citynomads.com/designs-on-asia-capitaspring-singapore/
And there you have it, 3 lesser-known facts about Singapore's "Garden City" Vision. Singapore has indeed flourished as a Green City because of these eco-conscious key initiatives that are rolled out with clear stewardship. To ensure a greener Singapore for our future generations, our job is far from done. Let's continue to inculcate a go green mindset, one that involves making small changes in our daily lives and cultivating an appreciation for the beautiful greenery surrounding us. It is only by adopting a conscious awareness of a sustainable lifestyle that will ensure our City in Nature will thrive for many generations to come.
Now that you are empowered with the 3 facts of Singapore's "Garden City" Vision, head over to our Geneco Facebook page or Instagram account where we are currently hosting a contest giveaway! Simply answer this question "What year was the Garden City Vision unveiled by Mr. Lee Kuan Yew?" and you could be one of the 10 lucky winners to walk away with a $50 FairPrice e-voucher and an exclusive Geneco Green Starter Kit!
Let's continue to #PowerTheChange and build a sustainable Singapore together.
Because green is more than a colour.
It is our future.