Here at Geneco, we strive to be more than just an electricity retailer. Through our social initiatives, we want to make meaningful contributions to individuals and society alike where we embrace the values of sustainability, giving and positivity.
This is especially important now. With daily news surrounding the COVID-19 situation, spirits have been dampened with lives everywhere becoming increasingly difficult and stressful by the day. Learning about businesses going into recession and figures of retrenchment, it seems difficult for most of us to remain positive.
Channelling the Right Energy
In the current climate, we choose not to be bogged down by negativity and pessimism. Instead, we at Geneco believe in the importance of focusing on what we have and what we value to power through this period.
Our intent is to motivate, uplift and inspire Singaporeans during this period, seeking ways to power different qualities such as togetherness and love within their lives. We want to show people that despite these difficult times, there remains many opportunities to uplift and empower those values within ourselves and those around us.
With this in mind, we launched #PowerTheChange - a social campaign aimed towards seeking out inspiring qualities shown by ordinary Singaporeans. Featuring stories of strength, compassion, and unity displayed within our communities, we hope to motivate Singaporeans as we weather this challenging time together.
Sharing Powerful Stories of Gratitude, Compassion, and Progress
One of the featured profiles was David Hoe, founder of Project Stable Staples - a ground up initiative helping disadvantaged households who have lost their incomes due to the COVID-19 situation. By sending them weekly grocery vouchers, the initiative hopes to provide each home with some "stable staples" every week.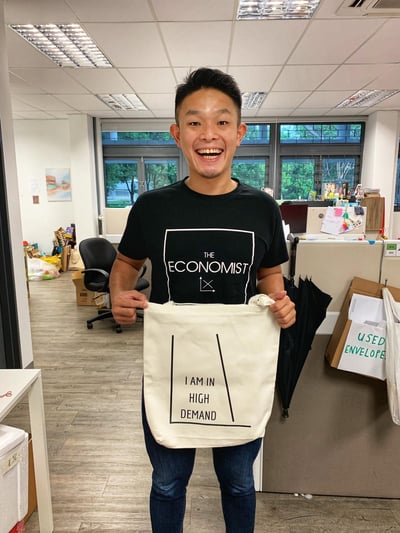 David Hoe during his teaching days
Coming from an underprivileged background himself and losing his mother at a young age, David received plenty of help from his peers and mentors who helped him through his difficulties to become a teacher and eventually a Community Partnerships Officer with MOE, where he supports students from disadvantaged families. His gratitude and mantra of 'paying it forward' was what inspired him to start Project Stable Staples.
To date, David's project has supported more than 266 families living in rental flats, with his social initiative set to help even more.
David chose to power kindness.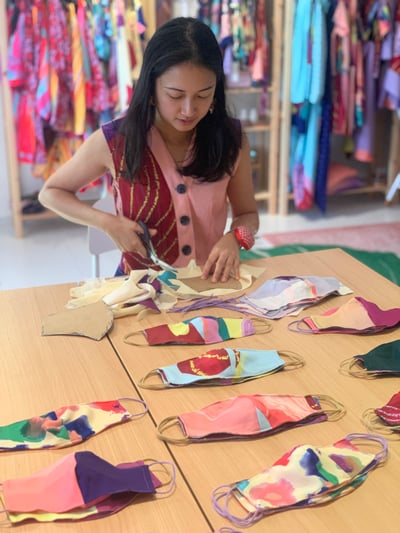 Founder of fashion label, Minor Miracles, Dawn Bey hand stitching masks to raise funds for migrant workers
Another inspiring story was from Dawn Bey, founder of Minor Miracles who displayed empathy and compassion in reaching out to employ fashion graduates who are unable to find jobs due to the current situation. Dawn and her new employees put their sewing skills to use by stitching and crafting face masks using leftovers from Minor Miracle's signature colourful fabrics to be sold to the public.
All profits made from selling the masks were subsequently donated to charities supporting migrant workers and community services.
Dawn chose to power compassion.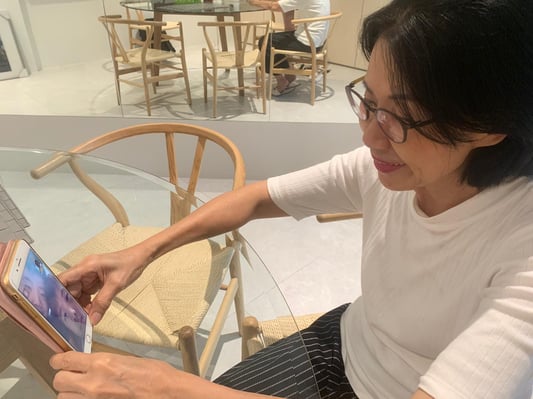 Homemaker Helen Goh, spending time with her grandchildren using video call
Last but not least is a homemaker who led an exciting life. Helen Goh was a business owner, a manager and held many other jobs throughout her working life. She adapted quickly to changing environments and constantly learned new skills to stay relevant.
Even as a grandmother now, she has not forgotten that learning is a lifelong pursuit. To stay connected to her family during the circuit breaker, Helen familiarised herself with technology and video call apps so that she could continue seeing her children and grandchildren, even while they are apart.
Helen chose to power progress.
Geneco's #PowerTheChange Efforts
Aside from sharing such inspiring stories in times of gloom, Geneco is also committed to make a difference within the community. Our #ChangeMakersSG programme promotes collaboration between ourselves and other green advocates. In this spirit of partnership and togetherness, we want to do our part by supporting our ChangeMakers' initiatives, creating a cohesive community to reach out to the disadvantaged around us.
Refash, one of our ChangeMakers, was facing difficulties when all nine of their retail outlets were forced to close as part of the circuit breaker measures, causing the brand to lose its revenue streams. Fortunately, Refash was able to quickly turn the situation around, by sourcing for 3-ply masks to be sold to the public as an alternative revenue stream to keep their business alive.
To support of our ChangeMaker, whilst understanding the crucial need of masks among Singaporeans even after the Circuit Breaker period, Geneco purchased 15,000 masks from Refash to be distributed to the less privileged in Singapore. To bolster this initiative, we also brought The Food Bank SG on board to help distribute these masks as they deliver food to vulnerable communities.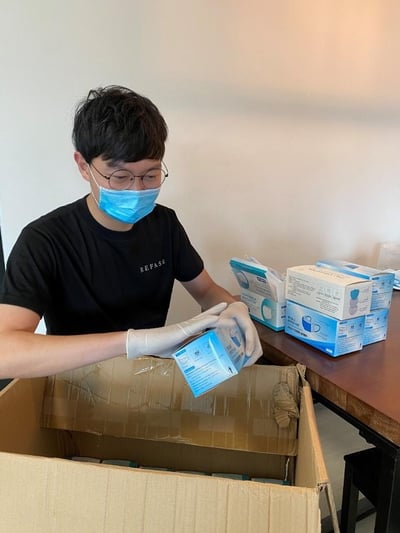 Aloysius Sng from Refash packing the masks before they are distributed through Food Bank SG's channels
Besides powering togetherness with Refash and Food Bank, Geneco has not forgotten to power sustainability, one of the core values which remains crucial to us.
Our ChangeMaker, ComCrop, is Singapore's first rooftop greenhouse making use of advanced hydroponic techniques to farm their vegetables, which allows them to utilise 90% less water than traditional farming methods. With these tools at hand, ComCrop aims to build a sustainable future whereby Singaporeans can have access to healthy and locally produced food from their supermarkets.
With the current COVID-19 situation, many countries have been placed in lockdown, inevitably causing a disruption in our country's food supply chains. As a result, ComCrop is currently standing at the forefront of our country's food production efforts to maintain our nation's food security, while at the same time fulfilling the government's '30 by 30' goal: cultivating enough food locally to meet 30% of the country's nutritional needs by 2030.
However, with the rising demand placed on local farmers, ComCrop's rooftop greenhouse is experiencing a greater strain to increase production, as they continue to cultivate fresh and pesticide free produce to feed Singapore's nutritional needs.
To do our part in strengthening sustainable food production in Singapore, we at Geneco have also committed to subsidise ComCrop's electricity bills for a year in support of their sustainability efforts.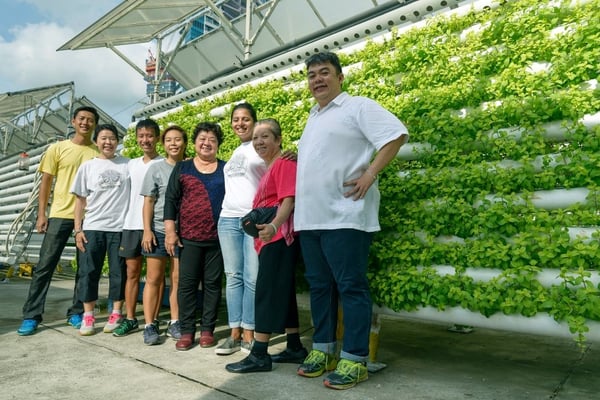 ComCrop team members posing with their rooftop farm
We hope that our #PowerTheChange campaign will inspire Singaporeans to choose positivity as we emerge gradually from the various stages of our country's lockdown.
Each person's story is different, and every scenario distinct, but with the correct mindset and motivation, each one of us has the opportunity to inspire different qualities of goodness within our lives, and to the lives of those around us.
Together, we can join hands to power change in many different ways.
What will you power today?
Click here to watch the video