Here at Geneco, we continuously strive to be a green champion by exploring green initiatives to promote a more sustainable lifestyle for our future generations.
However, we know that we can't do it alone. While each of us can contribute individually, working together as a community creates powerful change—which is why we are always looking for opportunities to collaborate with like-minded partners. The theme for our 2nd anniversary, #ItTakes2, also reflects this, as we look to celebrate and build on community efforts that have spurred change, such as our ChangeMakersSG programme, which was developed to encapsulate this spirit of partnership.
Now, let's have a throwback as we take a look at some of our key collaborations with our ChangeMakers over the past year that have reached out, involved and inspired a wider community:
1. From Farm to Table with Comcrop
With Singapore importing more than 90% of the food we eat, local farms may not be the first thing that comes to your mind when you think about food sources for the nation.
However, Comcrop, Singapore's urban farming pioneer, wants to change that. Founded in 2014, Comcrop wants to build a sustainable future in which Singaporeans can have easy access to healthy, locally produced food. Their produce is sustainably farmed using advanced hydroponic technology that uses 90% less water than traditional farming, and free from harmful pesticides or herbicides.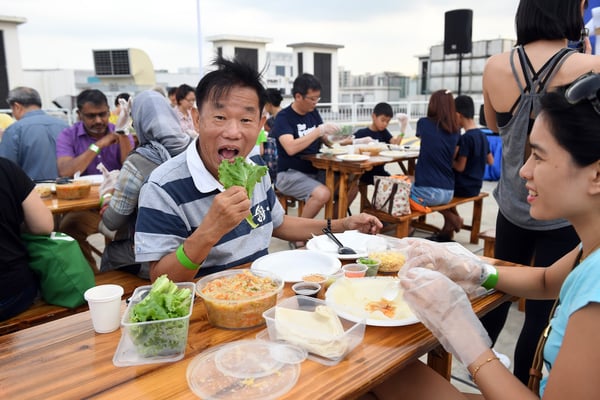 Geneco customers having their hand at making their own popiah using locally grown vegetables
We collaborated with Comcrop to organise a Farm-to-Table Popiah Making Party. Exclusive to our customers, the event provided participants with a unique food experience, as they used ingredients that were grown on-site at Comcrop's urban rooftop farm complex in Woodlands.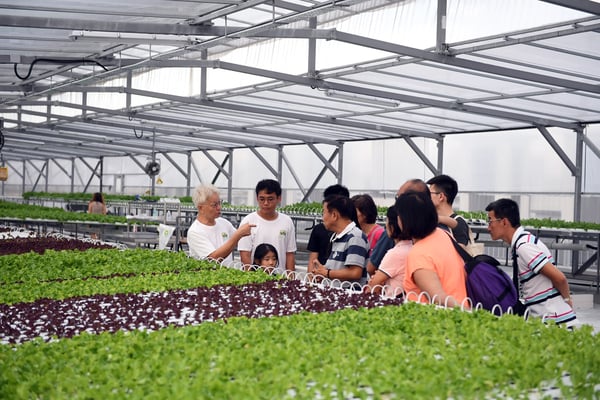 Urban agricultural farm tour for Geneco customers
More than just filling up their bellies, our customers also brought home the knowledge of how food can be grown sustainably in this city state through urban agriculture.
2. Instilling sustainability habits from young with Cultivate Central
Cultivate Central started in 2014 because of a single vision – to create urban food gardens that connect children to nature, giving them a space to learn how to grow their own food and to live sustainably. Through various hands-on programmes and activities, Cultivate Central aims to help Singaporeans discover nature.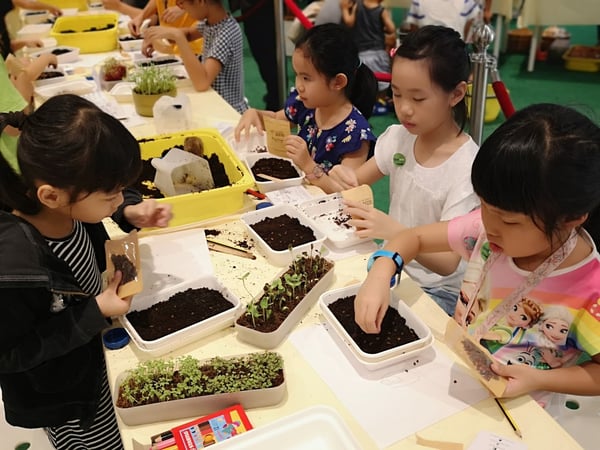 Children learning how to grow and care for their microgreens at our workshops with Cultivate Central
During the March school holidays, Geneco partnered Cultivate Central to create a series of specially curated urban food garden workshops for children to learn what they can do to protect the earth for their future.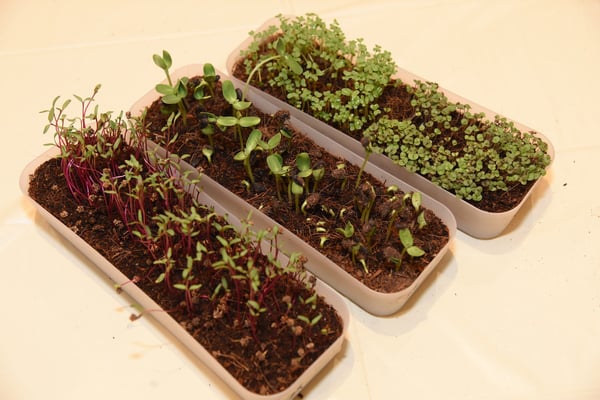 Carefully planted Microgreen plants by the customers and their children
Participants had the opportunity to have a hands-on experience, learning about growing, caring, harvesting and even preparing microgreens for consumption. A special kit was put together to give children a chance to mix the soil and sow the seeds, before they are greeted with their fruits (or vegetables) of labour, which included Kang Kong, Broccoli and Red Radish.
Remember, one is never too small to make a difference in sustaining a green future!
3. Feeding communities with Food Bank Singapore
Food waste is a critical issue for Singapore. In fact, it is one of the biggest waste streams in Singapore and the amount of food waste generated in Singapore has grown by 30 per cent over the past 10 years and amounted to 763 million kg of food waste generated in 2018.
The Food Bank Singapore was founded to create a centralised food resource management in our country to allow for unwanted or unused food to be given to those in need, rather than going to waste.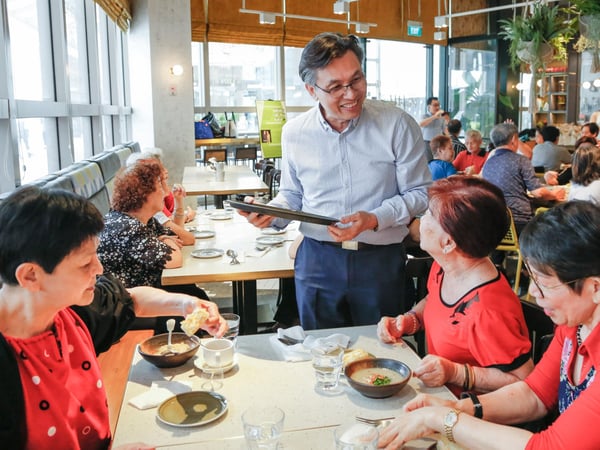 Putting a smile on everyone's face as Executive Vice President of Geneco, Mr Low Boon Tong, serves the dishes to the beneficiaries
Understanding the need to raise awareness surrounding the issue of food waste, we partnered Food Bank Singapore to engage the elderly community at our "Feed the City" event. Held at Plentyfull, employees from Geneco took time off to volunteer with the Food Bank to serve and engage with the elderly with an afternoon of games alongside the delectable spread.
And what a joyous afternoon it was! By the end of the event, the restaurant was filled with laughter where everyone was on their feet, dancing and belting out to their favourite tunes.
4. Launching a repair culture in the heartlands with Repair Kopitiam
The common practice whenever an appliance breaks down would be to dispose it. How many of us do think about the possibility of repairing the item to restore it to its original condition?
With the culture of convenience, it is no surprise that most Singaporeans would succumb to simply buying a replacement. The thought of repairing may have never crossed their minds, when in fact, a simple repair can breathe in new life.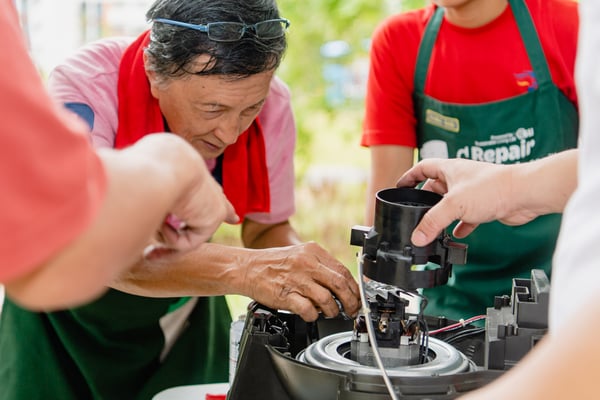 Repair coaches guiding residents on how to repair their appliances
By showing people how easy it is to put a stop to our throwaway culture, Repair Kopitiam hopes to promote sustainable living among Singaporeans and, eventually, reduce waste for good.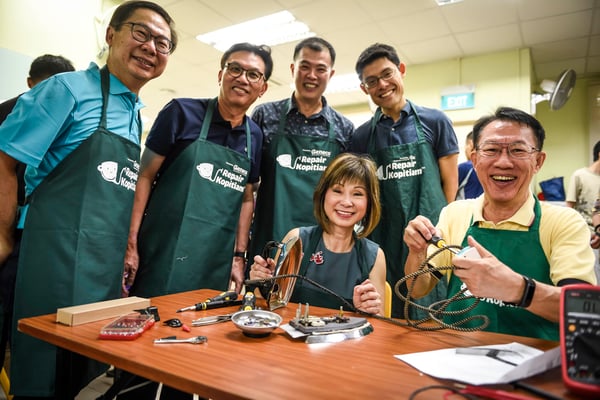 Mr. John Ng, CEO of YTL PowerSeraya , Mr. Low Boon Tong, Executive Vice President of Geneco and Dr. Amy Khor, Senior Minister of State for the Ministry of the Environment and Water Resources, learning from repair coaches at Repair Kopitiam's third official location in Ang Mo Kio
To spread this message to more Singaporeans, Geneco helped Repair Kopitiam launch its third location in Ang Mo Kio, to focus on residents in the central heartlands of Singapore. This official launch was graced by Dr. Amy Khor, Senior Minister of State for the Ministry of the Environment and Water Resources. Together with Mr. Veerappan Swaminathan, founder of Repair Kopitiam and Mr. John Ng, our CEO, Senior Minister Dr. Amy Khor presented the aprons to the inaugural batch of Repair Coaches from the area.
Through monthly repair sessions at the various sites within Singapore, Repair Kopitiam hopes to inspire more communities to not only think twice about their consumption habits, but to also be part of the growing repair culture.
5. Celebrating a green Christmas
Last Christmas, Geneco decided to open its very own Christmas Lodge at The Atrium of Wisma Atria. Our customers and shoppers were invited to be participate in a green Christmas through our sustainable crafting workshops.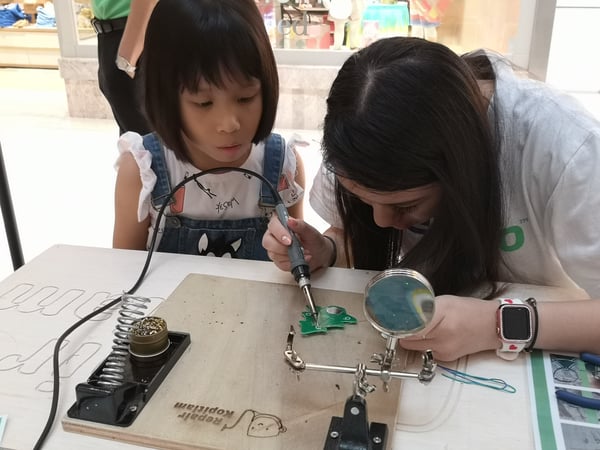 Participants making their very own LED dancing Light Christmas Ornaments
Held every week for the month of November, we partnered with Cultivate Central and Repair Kopitiam to organise workshops comprising sustainable craft activities, including Cocodama moss ball Christmas decorations, and LED-light ornaments.
We also brought our festive joy to our customers with sustainably brewed coffee in special Christmas flavours and even challenged them to light up their own LED Christmas Tree by generating power on our kinetic bicycles.
It's been an inspiring journey so far, and it wouldn't have been possible without the support from all our partners and customers! #ItTakes2 to bring about real change, and we look forward to powering the change with you in building a more sustainable nation for our future generations!
If you are interested and would like to learn more of Our ChangeMakersSG programme, you can visit here.